First Fall Running Series Race October 16th
The Fall Running Series starts Tuesday, October 8th with a 5K race at 5:30PM on the old M-Mountain Duathlon course. If you haven't done an SSR handicap race before, have an idea of what your current 5K race time is. If you have done a handicap race here before, we'll use your latest handicap.
If you are not an SSR member and you'd like to race, download a membership form and sign up. Students cost $5, individuals cost $10, and families cost $15. The race series fee is $5. Race winners receive a $10 prize, and the series winner wins $50.
Meet at the EMRTC control point gate at the bottom of the mountain. The course starts there, and goes east on the industrial park roads. To get to the gate, drive on Canyon Road through the NMT golf course, then past the IRIS/Passcal and EMRTC buildings toward the mountain.
Course Maps for Races 1, 2, and 4.
Click here for a larger image.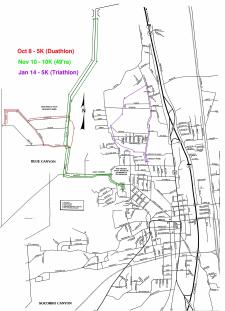 Sunday Run Time Change
The Sunday social run, which has been meeting at 7AM in the Tech pool parking lot, is moving to 8AM. Come out early Sunday and meet your fellow SSR members.