Owl Bar Run October 18
From Tech's Scope Newsletter: Everyone is invited to join the 79th Owl Bar Run on Friday, Oct. 18. You may participate individually or as a group in this non-competitive event. The trail is approximately 13 miles from Tech to the Owl Bar and Cafe in San Antonio, NM. Maps are available at the Gym. There will be fresh water and a marker at the 4 mile pit stop, then every 2 miles after that. You may run at any time from 6:30 a.m. to 6:30 p.m. If you want a ride back to Tech, a shuttle will depart from the Owl Bar at 6:30 p.m. sharp. The Tech Physical Recreation Department will sell Owl Bar Run T-shirts for $5. If you need further information, please call Melissa or Annine at 835-5131.
Tumbleweed 25 Mountain Bike Ride Set For October 19
White Sands Missile Range is hosting a mountain bike ride on October 19th. Quoting from the flyer announcing the ride, "This is not a race! It is a ride which will take you from the missile range main post to the north, across US Highway 70 and around Mineral Hill. You will ride mostly on rocky, dirt roads, with some stretches of deep sand, and pass by old ranches, mines and possibly see oryx and deer. The ride is about 25 miles long and has an elevation gain of approximately 1,300 feet. It is probably a two water bottle ride - there will be water on the route."
The ride departs from the WSMR Community Center at 7:30AM. The WSMR main post is about 20 miles east of Las Cruces on US 70, across Organ Pass. Contact WSMR Outdoor Recreation at 678-1713 for more information.
Paint The M October 20
The annual painting of the M on Socorro Peak will be part of the Tech 49'rs weekend on October 20th. This is a run up M Mountain, carrying a 50lb bag of lime. Meet at the EMRTC parking lot for a ride to the start. The start is at 10AM, and you can be returned by around 2PM. The first 50 students who reach the top will get $50 ($2500 total). Teams split the $50 prize. Anyone who wants to participate should e-mail Lisa Garcia or call her at 835-5646.
SSR To Place Discount Clothing Order
The De Soto Sport company supports clubs by offering 25% discounts on their triathlon clothing through a special club program. SSR will be placing a clothing order with De Soto on November 12th. Interested members should visit the De Soto Sport website to make a selection, however, to get the discount, the clothing order must be placed through SSR. Download an order form, fill it in, and send it to Matt Perini. Discounted prices are specified on the order form.
Abernathy Wins First Fall Running Series Race
The Fall Running Series began late Tuesday afternoon, with a 5K run in near perfect conditions just after sunset. As expected, most runners in the first race of the handicap series didn't come up with perfect estimates for their times, but we now have valid handicaps to use for the rest of the series. Robert Abernathy finished first, just ahead of Nathan Heronen. New member Tyler Haughness turned in a real time of 18:38, to meet the low handicap of 50.5 previously held by Vladimir Ispolatov.
The next race in the series will be held on Sunday, November 10th, at 8AM, taking the place of that day's Sunday social run. The race will be a 10K handicap run on the course of the former 49'rs 10K race. This course starts in front of President's Hall dorm on Campus Drive. If you didn't start the series with the 5K, you still have a chance at competing for the series title if you enter the 10K.
If you are not an SSR member and you'd like to race, download a membership form and sign up. Students cost $5, individuals cost $10, and families cost $15. The race series fee is $5. Race winners receive a $10 prize, and the series winner wins $50.
Course Maps for Races 1, 2, and 4.
Click here for a larger image.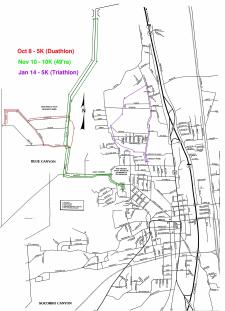 Fall Running Series Current Standings

| Place | Name | Time | New Handicap | Points |
| --- | --- | --- | --- | --- |
| 1 | Robert Abernathy | 24:25 | 83.5 | 5 |
| 2 | Nathan Heronen | 25:43 | 89.5 | 4 |
| 3 | Kim Schaffer | 22:48 | 75 | 3 |
| 4 | Bill Brundage | 27:07 | 96 | 2 |
| 5 | Fred Yarger | 29:05 | 100 | 1 |
| 6 | MJ Britton | 29:08 | 100 | 1 |
| 7 | Amber Owings | 30:45 | 100 | 1 |
| 8 | Austin Gabaldon | 32:09 | 100 | 1 |
| 9 | Tyler Haughness | 18:38 | 50.5 | 1 |
Krueger Wins Southwest Challenge Series Finale
On Sunday, October 6th, Christian Krueger won the Stealth Triathlon, the last race of the 2002 Southwest Challenge Series. The Stealth Triathlon, held on Holloman Air Force Base near Alamogordo, is a 5-mile run, followed by a 25-mile bike, finishing with an 800-meter swim. The lead of the race changed hands several times, leaving Krueger about 1.5-minutes behind Michael Schneider of Santa Fe heading into the final leg. Krueger, a former collegiate swimmer, pulled ahead of Schneider in the final 50 meters of the swim.
The women's race was won by Mary Uhl of Santa Fe, coming off her recent third-place finish at the prestigious Ironman Canada. SSR's Laura Wilcox finished second in the womens' 20-24 age group, and Cathy Perini finished second in the women's 35-39 age group. Matt Perini finished fourth in the Clydesdale category, however, the official results are not yet known.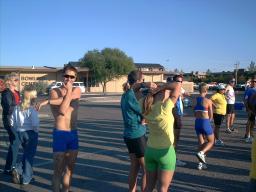 Krueger, Perini, and Wilcox wait for the start at the Stealth Triathlon
Three SSR Members Win Southwest Challenge Series Awards
The Southwest Challenge Series, a New Mexico and West Texas series of 27 duathlons and triathlons, concluded on Sunday at the Stealth Triathlon at Holloman Air Force Base near Alamogordo. An athlete must complete 10 of these races in order to be eligible for a series title, and three SSR members met the goal. Christian Krueger, after suffering from a hip injury for the first half of the season, finished the season strong and took second place in the Elite division. Laura Wilcox, in her first triathlon season, took first place in the women's 20-24 age group. Cathy Perini, in her best season yet, finished first in the women's 40-44 age group.
It all starts over again on December 14th, at the Polar Bear Triathlon at White Sands Missile Range, New Mexico. This year's Polar Bear is likely to see a few new faces from Socorro, as Laura Wilcox's triathlon class at Tech concludes there.
Regular Weekday Group Ride Reestablished
The noontime group road ride has been reestablished, starting at 11:15AM on Mondays, Wednesdays, and Fridays, according to member Peter Mozley. Distances vary a little bit, but most rides are between 1 and 1.5 hours in length.
Welcome New Members
Gene Cole (Socorro)
Kristi Coleman (NMIMT)
MJ, Chip, Joelyn, and Tim Britton (Elephant Butte)
Tyler Haughness (NMIMT)
Austin Gabaldon (NMIMT)
Gerry Strathman and Linda Giesen (Magdalena)