Kokopelli Long Course Triathlon Registration Closing Soon
The Kokopelli Long Course Triathlon (1/2 IM distance) will take place on Saturday, October 26th in Hurricane, Utah (~8 miles North of St. George and 2 hours from Las Vegas). This is a USAT-sanctioned event and 4 USAT officials will be present. This event will count towards your national ranking if you are a USAT member. The Kokopelli bike course will take athletes through some of the most beautiful redrock in the country as they bike to the mouth of Zion Canyon. Both air and water temperatures will be in the 70's, and wetsuits will be allowed. There will be a modest cash purse for both overall and age group winners. Sponsors include ClifBar/ClifShot, Nike, Pool 'n Patio, SBR Sports, SportsBasement, and many more! Come enjoy the beauty of Southern Utah. You can find more information about the race at http://www.triutah.com. Registration closes on Wednesday, Oct. 23rd on Active.com If you have questions, email us at info@triutah.com
Owl Bar Run October 18
From Tech's Scope Newsletter: Everyone is invited to join the 79th Owl Bar Run on Friday, Oct. 18. You may participate individually or as a group in this non-competitive event. The trail is approximately 13 miles from Tech to the Owl Bar and Cafe in San Antonio, NM. Maps are available at the Gym. There will be fresh water and a marker at the 4 mile pit stop, then every 2 miles after that. You may run at any time from 6:30 a.m. to 6:30 p.m. If you want a ride back to Tech, a shuttle will depart from the Owl Bar at 6:30 p.m. sharp. The Tech Physical Recreation Department will sell Owl Bar Run T-shirts for $5. If you need further information, please call Melissa or Annine at 835-5131.
Tumbleweed 25 Mountain Bike Ride Set For October 19
White Sands Missile Range is hosting a mountain bike ride on October 19th. Quoting from the flyer announcing the ride, "This is not a race! It is a ride which will take you from the missile range main post to the north, across US Highway 70 and around Mineral Hill. You will ride mostly on rocky, dirt roads, with some stretches of deep sand, and pass by old ranches, mines and possibly see oryx and deer. The ride is about 25 miles long and has an elevation gain of approximately 1,300 feet. It is probably a two water bottle ride - there will be water on the route."
The ride departs from the WSMR Community Center at 7:30AM. The WSMR main post is about 20 miles east of Las Cruces on US 70, across Organ Pass. Contact WSMR Outdoor Recreation at 678-1713 for more information.
Paint The M October 20
The annual painting of the M on Socorro Peak will be part of the Tech 49'rs weekend on October 20th. This is a run up M Mountain, carrying a 50lb bag of lime. Meet at the EMRTC parking lot for a ride to the start. The start is at 10AM, and you can be returned by around 2PM. The first 20 students who reach the top will get $50 ($1000 total). Teams split the $50 prize. Anyone who wants to participate should e-mail Lisa Garcia or call her at 835-5646.
SSR To Place Discount Clothing Order
The De Soto Sport company supports clubs by offering 25% discounts on their triathlon clothing through a special club program. SSR will be placing a clothing order with De Soto on November 12th. Interested members should visit the De Soto Sport website to make a selection, however, to get the discount, the clothing order must be placed through SSR. Download an order form, fill it in, and send it to Matt Perini. Discounted prices are specified on the order form.
Trials Arena Being Created
From Brad Cromey, local trials riding expert: We now have a trials arena being cleared at the tree farm just south of the P-Plant. I will be working with trials volunteers on the set-up using big tires, wooden boxes, rocks, etc. Everything will be painted nicely and hopefully portray a positive image for the sport. By the way, this set-up will be one of, if not the only, one of its kind in New Mexico. So far, we have the support of p-plant and NMT gather materials and I will use some money from my extreme cycling class to purchase paint and screws. For people planning to use the area, extra contributions would make a big difference in getting it nice quickly. Any ideas from riders are very welcome for section set-ups. I know there will be alot of work in this arena set-up and I hope it will help increase the popularity of the sport.
Second Fall Running Series Race Set For November 10
The Fall Running Series continues on Sunday, November 10th, at 8AM, taking the place of that day's Sunday social run. The race will be a 10K handicap run on the course of the former 49'rs 10K race. This course starts in front of President's Hall dorm on Campus Drive. If you didn't start the series with the 5K, you still have a chance at competing for the series title if you enter the 10K.
If you are not an SSR member and you'd like to race, download a membership form and sign up. Students cost $5, individuals cost $10, and families cost $15. The race series fee is $5. Race winners receive a $10 prize, and the series winner wins $50.
Course Maps for Races 1, 2, and 4.
Click here for a larger image.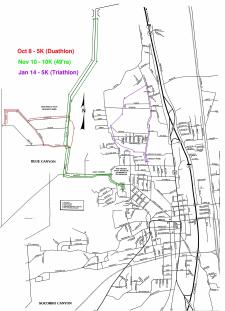 Fall Running Series Current Standings

| Place | Name | Time | New Handicap | Points |
| --- | --- | --- | --- | --- |
| 1 | Robert Abernathy | 24:25 | 83.5 | 5 |
| 2 | Nathan Heronen | 25:43 | 89.5 | 4 |
| 3 | Kim Schaffer | 22:48 | 75 | 3 |
| 4 | Bill Brundage | 27:07 | 96 | 2 |
| 5 | Fred Yarger | 29:05 | 100 | 1 |
| 6 | MJ Britton | 29:08 | 100 | 1 |
| 7 | Amber Owings | 30:45 | 100 | 1 |
| 8 | Austin Gabaldon | 32:09 | 100 | 1 |
| 9 | Tyler Haughness | 18:38 | 50.5 | 1 |
Regular Rides and Runs
Cycling (road): MWF 11:15 AM, meet at Tech's NRAO Guesthouse.
Running: SSR Sunday social run, meet at Tech pool parking lot, 8AM Sundays.
Like to start a new regular run or ride? Contact Matt Perini to get it listed here.