Paint The M
Thanks to the NM Tech 49'rs committee and EMRTC for another fun climb to the top of Socorro Peak on Sunday. This year's race was even bigger, with over 110 making the 2300'+ climb over rocks, bushes, cactus, and snakes on the 45-degree slopes of the mountain. After the race, climbers were treated to a cookout on top of the mountain before being driven back to the Tech campus.
A cash prize of $50 was awarded to the first 20 climbers carrying 50 lbs of lime. Christian Krueger was the first to reach the M with lime, and Laura Wilcox was the first female (and 4th overall). Kim Schaffer repeated her 2nd place overall performance of last year, finishing in about 53 minutes. Other SSR members making the climb included Robert Abernathy, Matt Perini, Addy Bhasker, and Nathan Heronen.
Regular Club Meeting November 5
There will be a regular SSR meeting on November 5th at the Socorro Springs Brewing Company at 7PM. Several items are already on the agenda; please contact Matt Perini if you'd like to add an item.
Club jerseys
APAS proposal for a fund-raiser
Hwy 60 clean up date
Singletrack maintenance date
Club Jerseys
We'll (finally) make a decision about which club jersey we'll have printed at the November meeting. If you can't make it, please indicate to Matt Perini which of the following 4 jersey designs you prefer.
SSR To Place Discount Clothing Order
The De Soto Sport company supports clubs by offering 25% discounts on their triathlon clothing through a special club program. SSR will be placing a clothing order with De Soto on November 12th. Interested members should visit the De Soto Sport website to make a selection, however, to get the discount, the clothing order must be placed through SSR. Download an order form, fill it in, and send it to Matt Perini. Discounted prices are specified on the order form.
Second Fall Running Series Race Set For November 10
The Fall Running Series continues on Sunday, November 10th, at 8AM, taking the place of that day's Sunday social run. The race will be a 10K handicap run on the course of the former 49'rs 10K race. This course starts in front of President's Hall dorm on Campus Drive. If you didn't start the series with the 5K, you still have a chance at competing for the series title if you enter the 10K.
If you are not an SSR member and you'd like to race, download a membership form and sign up. Students cost $5, individuals cost $10, and families cost $15. The race series fee is $5. Race winners receive a $10 prize, and the series winner wins $50.
Course Maps for Races 1, 2, and 4.
Click here for a larger image.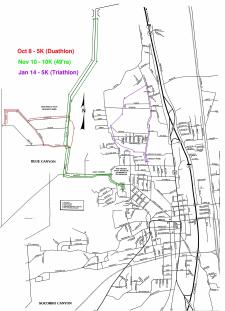 Fall Running Series Current Standings

| Place | Name | Time | New Handicap | Points |
| --- | --- | --- | --- | --- |
| 1 | Robert Abernathy | 24:25 | 83.5 | 5 |
| 2 | Nathan Heronen | 25:43 | 89.5 | 4 |
| 3 | Kim Schaffer | 22:48 | 75 | 3 |
| 4 | Bill Brundage | 27:07 | 96 | 2 |
| 5 | Fred Yarger | 29:05 | 100 | 1 |
| 6 | MJ Britton | 29:08 | 100 | 1 |
| 7 | Amber Owings | 30:45 | 100 | 1 |
| 8 | Austin Gabaldon | 32:09 | 100 | 1 |
| 9 | Tyler Haughness | 18:38 | 50.5 | 1 |
Regular Rides and Runs
Cycling (road): MWF 11:15 AM, meet at Tech's NRAO Guesthouse.
Running: SSR Sunday social run, meet at Tech pool parking lot, 8AM Sundays.
Like to start a new regular run or ride? Contact Matt Perini to get it listed here.