De Soto Sport Announces Sale Items
The De Soto Sport company supports clubs by offering 25% discounts on their triathlon clothing through a special club program. SSR will be placing a clothing order with De Soto on November 12th. Interested members should visit the De Soto Sport website to make a selection, however, to get the discount, the clothing order must be placed through SSR. Download an order form, fill it in, and send it to Matt Perini. Discounted prices are specified on the order form.
In addition to the usual 25% off, De Soto Sport is offering 40% off several clearance items to clubs only. Click here for details.
Course Change for Second Fall Running Series Race
In the interest of simplicity in course design, the SSR officers have made a change to the 10K course to be run on Sunday, November 10th, as part of the Fall Running Series. Rather than the former 49'rs 10K course, as listed in the flyer, the 10K will be on an out-and-back course. The start will be at the Tech pool parking lot, and it will go directly to the EMRTC building, and then out the "new" road to Escondida until it reaches the turnaround at the Nogal Arroyo bridge. This is the same point as the first turnaround for the Socorro Chile Harvest Triathlon, and is marked with the words "Triathlon Turn" on the road. The actual distance will be about 6.5 miles, a little more than 10K.
If you are not an SSR member and you'd like to race, download a membership form and sign up. Students cost $5, individuals cost $10, and families cost $15. The race series fee is $5. Race winners receive a $10 prize, and the series winner wins $50.
Course Maps for Races 1, 2 (updated), and 4.
Click here for a larger image.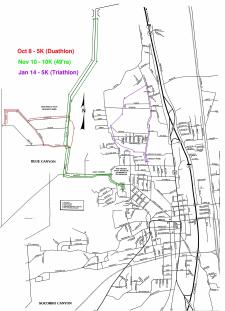 Click here for series standings.
Regular Club Meeting November 5
There will be a regular SSR meeting on November 5th at the Socorro Springs Brewing Company at 7PM. Several items are already on the agenda; please contact Matt Perini if you'd like to add an item.
Club jerseys
APAS proposal for a fund-raiser
Hwy 60 clean up date
Singletrack maintenance date
December party
Club Jerseys
We have several votes for club jerseys already. The "Sand and Blue" design is currently ahead, followed closely by the "Sunburst" design. Please contact Matt to vote or attend the November 5th meeting.
Regular Rides and Runs
Cycling (road): MWF 11:15 AM, meet at Tech's NRAO Guesthouse.
Running: SSR Sunday social run, meet at Tech pool parking lot, 8AM Sundays.
Like to start a new regular run or ride? Contact Matt Perini to get it listed here.