November Meeting Wrapup
Our November meeting was held on Tuesday, November 5th at the Socorro Springs Brewing Company. Among other items of business, the "Sunburst" jersey design proved to be the most popular of the 4 contenders, and SSR will work on a run/walk 5K event with the Animal Protective Association of Socorro (APAS). See the complete minutes for all the details.
Second Fall Running Series Race This Sunday
The second race in the Fall Running Series of handicap-format races will be held at 8AM on Sunday, November 10th. This 10K race has been changed from the original course to an out-and-back on the EMRTC bypass road. The start will be at the Tech pool parking lot, and it will go directly to the EMRTC building, and then out the bypass road to Escondida until it reaches the turnaround at the Nogal Arroyo bridge. This is the same point as the first turnaround for the Socorro Chile Harvest Triathlon, and is marked with the words "Triathlon Turn" on the road. The actual distance will be about 6.5 miles, a little more than 10K.
If you are not an SSR member and you'd like to race, download a membership form and sign up. Students cost $5, individuals cost $10, and families cost $15. The race series fee is $5. Race winners receive a $10 prize, and the series winner wins $50.
Course Maps for Races 1, 2 (updated), and 4.
Click here for a larger image.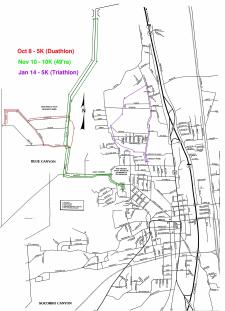 Click here for series standings.
One Week Left For De Soto Sport Order
The SSR order for De Soto Sport apparel will be placed on November 12th. Interested members should visit the De Soto Sport website to make a selection, however, to get the 25% discount, the clothing order must be placed through SSR. Download an order form, fill it in, and send it to Matt Perini. Discounted prices are specified on the order form.
In addition to the usual 25% off, De Soto Sport is offering 40% off several clearance items to clubs only. Click here for details.
Regular Rides and Runs
Cycling (road): MWF 11:15 AM, meet at Tech's NRAO Guesthouse.
Running: SSR Sunday social run, meet at Tech pool parking lot, 8AM Sundays.
Like to start a new regular run or ride? Contact Matt Perini to get it listed here.