Abernathy Holds On To Win November Handicap
Sunday's race in the Fall Running Series showed why handicap races can be exciting. A large amount separated the first racers to start from the last, however, the finish was over within a few minutes. The first to arrive was Robert Abernathy, holding off a fast-closing Kim Schaffer by just 8 seconds. The other finishers were Austin Gabaldon, Matt Greenley, Bill Brunday, Tyler Haughness, and Nathan Heronen.
Thanks to all the participants and to Cathy who volunteered. See a related article in this newsletter for a note about the last half of the series.
November Fall Running Series Results

| Place | Name | Time | New Handicap | Points |
| --- | --- | --- | --- | --- |
| 1 | Robert Abernathy | 0:51:20 | 77.5 | 10 |
| 2 | Kim Schaffer | 0:47:49 | 69 | 8 |
| 3 | Austin Gabaldon | 1:09:59 | 114 | 6 |
| 4 | Matthew Greenley | 0:51:35 | 78.5 | 4 |
| 5 | Bill Brundage | 1:00:14 | 96 | 2 |
| 6 | Tyler Haughness | 0:43:29 | 57.5 | 1 |
| 7 | Nathan Heronen | 1:01:57 | 89.5 | 1 |

Click here for series standings.
Relay For Life Christmas Luminarias Available
Fred Yarger reports that the American Cancer Society's 2003 Relay For Life will be held on June 13th and 14th, rather than the usual first weekend of June. It's not too early to start your Relay fundraising, and Fred also has forms for obtaining luminarias from the ACS for Christmas.
End-of-Year Party To Be Held December 8th
At 6PM in the evening after the December 8th handicap race at the Bosque del Apache, SSR will be gathering for an end-of-year party at Matt and Cathy's house near San Antonio. If you like, bring either a dish or a beverage, however SSR will be supplying some sort of dinner and beverages (we haven't decided on a menu yet). Kids and friends are definitely welcome! Come and celebrate our most successful year yet!
Third Fall Running Series Race December 8th
The third race in the Fall Running Series of handicap-format races will be held at 3PM on Sunday, December 8th. This 15K race will be held on the former "Cruisin' With The Cranes" course on NM Hwy 1 south of the Bosque del Apache NWR. We will meet at the Bosque del Apache visitor center parking lot to carpool to the start at the intersection of NM 1 and NM 173 (the San Marcial turnoff).
The race will be finishing at the Bosque del Apache visitor center at the same time as the evening fly-in of birds at the refuge, an additional treat for the participants. After the race, Matt and Cathy will be hosting the SSR end-of-year party at their house in San Antonio.
This race is worth (15, 12, 9, 6, 3, 1) points for the (first, second, third, fourth, fifth, and remaining) finishers, and so the outcome of the entire series may be greatly affected by the results.
If you are not an SSR member and you'd like to race, download a membership form and sign up. Students cost $5, individuals cost $10, and families cost $15. The race series fee is $5. Race winners receive a $10 prize, and the series winner wins $50.
Course Maps for Races 1, 2 (updated), and 4.
Click here for a larger image.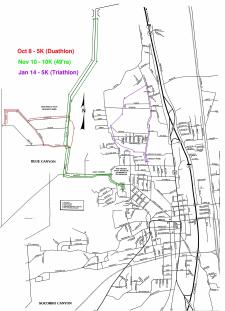 Click here for series standings.
January 11 Ride With Tri Team Southwest Planned
Tri Team Southwest, a triathlon club with members all over the state of New Mexico and West Texas, is planning a 50-mile training ride on NM Hwy 1 on January 11th, and they're inviting members of SSR to join them. We're meeting at the Owl Bar at 9:30 AM to ride to the Santa Fe Diner, then back. Lunch will be at the Owl after the ride.
Taking a Break
This newsletter will return the week of December 11th. In the meantime, we hope to see you at a Sunday run, a weekday ride, the December handicap race and/or the end-of-year party. Take care!
Regular Rides and Runs
Cycling (Road): MWF 11:15 AM, meet at Tech's NRAO Guesthouse.
Cycling (MTB): Friday 12 Noon, meet at the IRIS Parking Lot.
Running: SSR Sunday social run, meet at Tech pool parking lot, 8AM Sundays (excluding Dec 8).
Like to start a new regular run or ride? Contact Matt Perini to get it listed here.