Tyler Haughness Wins December Handicap
Five hearty runners braved December 8th's bad weather to run the third race of the Fall Running Series. A stiff north wind prompted the group to decide to shorten the run from a 15K run into the wind to a 6.6-mile out-and-back, entirely within the bounds of the Bosque del Apache refuge. Tyler Haughness started last, four minutes behind Kim Schaffer, but closed the gap about halfway back to the finish. All five, Tyler, Kim, Austin Gabaldon, Matt Greenley, and Fred Yarger, finished in a two-minute period.
December Fall Running Series Results

| Place | Name | Time | Handicap | Points |
| --- | --- | --- | --- | --- |
| 1 | Tyler Haughness | 0:45:13 | 57.5 | 15 |
| 2 | Kim Schaffer | 0:50:03 | 69 | 12 |
| 3 | Austin Gabaldon | 1:13:44 | 114 | 9 |
| 4 | Matthew Greenley | 0:55:23 | 78.5 | 6 |
| 5 | Fred Yarger | 1:08:17 | 104 | 3 |




Tyler Haughness Finishes

Click here for series standings.
Polar Bear Triathlon Set For Saturday December 14th
There's only a few days left to get ready to race! The Polar Bear Triathlon, held at White Sands Missile Range east of Las Cruces, will be run on Saturday, December 14th. This fun race consists of a 5K run, 30K bike, and a 400 meter swim.
This race also serves as the kick-off for the 2003 Southwest Challenge Series, a series of triathlons and duathlons in New Mexico and West Texas. Awards will be given out after the race for the winners of the 2002 series.
For more information, contact the WSMR Bell Gymnasium at 505-678-3374.
Relay For Life Christmas Luminarias Available
Fred Yarger reports that the American Cancer Society's 2003 Relay For Life will be held on June 13th and 14th, rather than the usual first weekend of June. It's not too early to start your Relay fundraising, and Fred also has forms for obtaining luminarias from the ACS for Christmas.
APAS 5K Tentatively Set For March 8th
Plans are in the works to hold a 5K run to support the Animal Protective Association of Socorro (APAS), on Saturday, March 8th. The race will probably be held on Sixth Street in Socorro, starting and finishing at Clark Field. Runners will be encouraged to run with their dogs. A 1-mile walk will accompany the 5K run.
Since this race is still in the planning stages, we still need help with a name, a poster and entry form, t-shirt design, course design, and many other aspects. If you'd like to contribute, please contact Matt Perini.
Club Elections Scheduled For January 7th Meeting
The first SSR meeting of 2003 will be held at 7PM on January 7th at the Socorro Springs Brewing Company. Items on the agenda include election of officers for 2003 and the ASAP 5K.
Fourth Fall Running Series Race January 14th
The fourth race in the Fall Running Series of handicap-format races will be held at 5:30PM on Tuesday, January 14th. This 5K race will be held on the Socorro Chile Harvest Triathlon course, which starts at the Socorro City pool on El Camino Real. See the map for details.
This race is worth (5, 4, 3, 2, 1) points for the (first, second, third, fourth, fifth, and remaining) finishers.
If you are not an SSR member and you'd like to race, download a membership form and sign up. Students cost $5, individuals cost $10, and families cost $15. The race series fee is $5. Race winners receive a $10 prize, and the series winner wins $50.
Course Maps for Races 1, 2 (updated), and 4.
Click here for a larger image.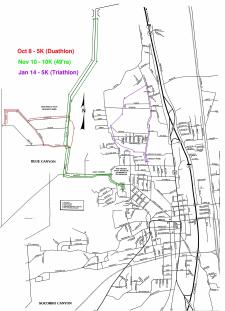 Click here for series standings.
USA Triathlon Raises Membership Rates
USA Triathlon, the national governing body for triathlon and duathlon, and the organization that sanctions and insures the Socorro Chile Harvest Triathlon and many of the other triathlons in the country, is raising its individual membership rate to $30 per year. One-day memberships will increase from $7 to $9. Youth rates will remain at $15 per year, or $3 for a one-day membership. The club discount will remain at $3.
USAT reports that the rate increase is due to a 30% increase in their insurance premium. Membership in USAT includes medical insurance for racers. The premium increase is due to the general lack of underwriters of insurance for sporting events following the collapse of Harbour Entertainment and Sports Insurance earlier this year.
Current members might consider renewing before January, when the new rates go into effect.
SSR has also seen a near-doubling in insurance premium from Road Runners Clubs of America (RRCA), however, the American Cycling Association (ACA), which did not use Harbour, has managed to avoid a fee increase this year.
January 11 Ride With Tri Team Southwest Planned
Tri Team Southwest, a triathlon club with members all over the state of New Mexico and West Texas, is planning a 50-mile training ride on NM Hwy 1 on January 11th, and they're inviting members of SSR to join them. We're meeting at the Owl Bar at 9:30 AM to ride to the Santa Fe Diner, then back. Lunch will be at the Owl after the ride.
Regular Rides and Runs
Cycling (Road): MWF 11:15 AM, meet at Tech's NRAO Guesthouse.
Cycling (MTB): Friday 12 Noon, meet at the IRIS Parking Lot.
Running: SSR Sunday social run, meet at Tech pool parking lot, 8AM Sundays (excluding Dec 8).
Like to start a new regular run or ride? Contact Matt Perini to get it listed here.