New Club Officers For 2003
Actually, the headline is misleading. At the January meeting (minutes) the positions were changed, but the names remain the same. Former Vice President Robert Abernathy is the new President, former Secretary/Treasurer Cathy Perini is the new Vice President, and former President Matt Perini is the new Secretary/Treasurer.
January 11 Ride With Tri Team Southwest Planned
Tri Team Southwest, a triathlon club with members all over the state of New Mexico and West Texas, is planning a 50-mile training ride on NM Hwy 1 on January 11th, and they're inviting members of SSR to join them. We're meeting at the Owl Bar at 9:30 AM to ride to the Santa Fe Diner, then back. Lunch will be at the Owl after the ride.
Regular Rides and Runs
Cycling (Road): MWF 11:15 AM, meet at Tech's NRAO Guesthouse.
Cycling (MTB): Friday 12 Noon, meet at the IRIS Parking Lot.
Running: SSR Sunday social run, meet at Tech pool parking lot, 8AM Sundays (excluding Dec 8).
Like to start a new regular run or ride? Contact Matt Perini to get it listed here.
Fourth Handicap Run Time Changed
The fourth race in the Fall Running Series of handicap-format races will be held at 5PM on Tuesday, January 14th, not 5:30PM as previously advertised. This 5K race will be held on the Socorro Chile Harvest Triathlon course, which starts at the Socorro City pool on El Camino Real. See the map for details.
This race is worth (5, 4, 3, 2, 1) points for the (first, second, third, fourth, fifth, and remaining) finishers. Runners competing in their first race of the series will not be eligible for points or for the cash prize for the first finisher.
If you are not an SSR member and you'd like to race, download a membership form and sign up. Membership costs $5 for students, $10 for individuals, and $15 for families. The series fee will be waived for this race. The race winner will receive a $10 prize, and the series winner will win $50.
Course Maps for Races 1, 2 (updated), and 4.
Click here for a larger image.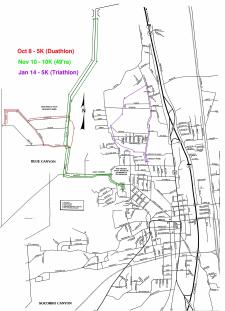 Click here for series standings.