Weekend Results
On Saturday, E.P., Alyssa, and Jennell Higgs, Dave Lord, Barry Field, and Matt Perini, traveled to Dexter, NM (near Roswell) for the 19th annual Milkman Triathlon. This short-course event was this year's Rocky Mountain Region Sprint Triathlon Championship race. After a 500-meter swim in Lake Van, it's a 20K bike, then a 5K run. This is one of the finest-run events in New Mexico, and Larry Marshall and the crew from Dexter deserve all the credit.
At this time, the final results haven't been posted, but we can say that Alyssa and Jennell took first and second in their age group, respectively, and Alyssa's time was good enough for tenth female overall standing. Matt also placed, with a third in the Master's Clydesdale division. Barry placed third in the 55-59 age group.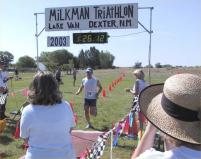 Dave Lord at the Milkman Triathlon
Further north, Mike Dennis battled the thin air of the TA-to-TP cycling race, on US64 between Tres Piedras and Tierra Amarilla. Mike's light weight doesn't do him any good on the long downhill stretch at the beginning of the D race, but he made up a lot of time on the climb back to finish 8th in his race.