2003 Fat Tire Fiesta
Last weekend's Fat Tire Fiesta brought many Striders And Riders members out for a weekend of mountain bike riding and racing, including some who were simply donating their time as volunteers. This event took dozens of volunteers to run, and every one deserves to know that they should be proud. Although the total numbers were off by 25-30% this year, we still made a lot of local and visiting mountain bike riders happy. Just to mention a few of the volunteers, at the risk of offending the remainder who worked just as hard:

Event organizers Mark Bottjer and Camille Scielzi had already put in hundreds of hours prior to the event, then spent the entire weekend at registration, on rides, or cleaning up. Camille spent much of Saturday at Aid Station 4 on the Quebradas Metric Century, finally able to leave when a sudden thunderstorm drenched the course.
Peter Mozley and Mike Dennis spent all Saturday on the race course, helping set up in the morning, then directing cyclists at turns, then manning the remote Aid Station 3 for the remainder of the day.
Mark Dombrowski led the Roller Coaster ride early Saturday morning, then spent the rest of the day at the race finish, and stayed until the last rider, Freddy Janer, finished at around 4PM. He then led the Bosque del Apache ride on Sunday.
Robert Abernathy led the Barite Mine ride on Saturday, organized the Plaza Criterium on Saturday evening, then drove the shuttle for the Copper Canyon ride on Sunday.
Marcos Alvarez spent half of Friday marking the Quebradas race course, putting out signs and laying down lime. He then raced the 100K on Saturday (see photo below). On Monday, he was still able to set the pace for the noon ride!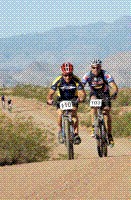 Marcos Alvarez holds on at mile 5 in the Quebradas Metric Century
Preparation has already started for next year's event, so if you've got suggestions about how to improve the event, please contact fattire@socorro.com.
Quebradas Races Results
Marcos Alvarez and Mike Montoya were the only SSR members to enter the 100K mountain bike race held as part of the 2003 Fat Tire Fiesta. Mike took an impressive first place in his age group, racing in the Sport category, with a time of 3:46:04. Marcos finished 7th in his age group, also racing in Sport, with a time of 4:54:54. Full results are posted at the Fat Tire Fiesta web site.
Fall Running Series Continues Sunday
Be at the EMRTC building on the New Mexico Tech campus Sunday morning, September 28th, for the second 5K in the 2003 Fall Running Series. The first race, on September 7th had 5 competitors, and was won by new Socorro resident Ephraim Ford.
Prizes going to the overall winners in each of four age groups in both genders. The series fee is $5 and that'll buy entry into all of the remaining three races and a series T-shirt. All races meet in front of the EMRTC building (at the rattlesnake sculpture). The actual courses will be determined later. Download a flyer here.
Hash House Harriers Meet October 2nd
The Socorro Hash House Harriers will meet on Thursday, October 2nd, at the Socorro Springs Brewing Company. Meet at 6:00PM for a 6:15PM start. Bring a flashlight!
Regular Meeting October 7
The next regular meeting of the Socorro Striders And Riders will be held on October 7th, at 6PM, at the Socorro Public Library meeting room.
Duke City And Rio Grande Marathon Date Conflict
It was recently brought to our attention that the Duke City Marathon (Albuquerque) and the Rio Grande Marathon (Las Cruces) have landed on the same date, October 26th. You choose. Both events offer a marathon, marathon relay, half-marathon, and 5K run and walk. Duke City also offers a marathon walk and a kids-K. Both are Boston qualifiers. Duke City has a website, while Rio Grande has an entry form, and will have a website by October.
Regular Rides and Runs Around Socorro
These are not SSR-sponsored club events!
Cycling (Road): MWF 11:30 AM, meet at the IRIS Parking Lot.
Cycling (MTB): Friday 11:30 AM, meet at the IRIS Parking Lot (not very regular!).
Running: Sunday social run, meet at Tech pool parking lot, 7AM Sundays.
Like to start a new regular run or ride? Contact Matt Perini to get it listed here.