M Mountain Run Sunday October 26th
Can Christian win three years in a row? The annual run to the top of M Mountain (as part of Tech's 49'rs celebration) will be held on Sunday, October 26th. This run starts from the base of the mountain near Blue Canyon and finishes at the top of the "M". There are no trails! Students who carry the 50-lb bags of lime to the top are eligible for prizes. A hamburger and hot dog cookout awaits the finishers at the top. Registration is required; contact Lisa Garcia.
Hash House Harriers Meet October 30th
The Socorro Hash House Harriers will meet on Thursday, October 30th, for our first Halloween Hash (costumes required)! Meet at the Socorro Springs Brewing Company at 6:00PM for a 6:15PM start. This will be a night hash, so bring a flashlight! Also, Matt and Christian may both be receiving their hash names!
Sunday Run Time Change
Daylight savings time ends Sunday morning, and with it, the Sunday morning run time is switching back to 8:00 AM from 7:00 AM. See you there!
Moore Takes Age Group 5that Ironman Hawaii
Terry Moore's first visit to the island of Hawaii for the Ironman World Championship resulted in a 5th-place finish in the 18-24 age group. Terry swam the 2.4-mile course in an impressive 58:43, the 112-mile bike in 4:54, and the marathon in 4:19, for a total time of 11:40:32. Former Tech student Urs Fitzi also competed, finishing in a total time of 10:02:53. Congratulations to both Terry and Urs!
Singletrack Trail Maintenance Day
Brad Cromey, Nathan Heronen, Shawn West, Isaac Burleigh, Todd White, Robert Abernathy, and Matt Perini met at the Socorro Singletrack last Saturday to work on trouble spots in the trail. Most of the effort this time was to improve drainage. Thanks to all you guys for your help in keeping this popular trail in good shape.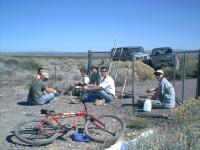 Taking a break after a morning of trail maintenance
Transition Times New Mexico Radio
Our friends at Transition Times New Mexico and Tri-Team Southwest are starting an Internet radio show on November 9th. Check out the full story at Transition Times.
Hwy 60 Clean Up November 22nd
There is a highway 60 cleanup scheduled for November 22 (Saturday). We've now cleaned up the entire section of highway, so there's only a few months worth of trash and it shouldn't take long. Judging from what we get, we'll gauge how often we need to return.
For Sale
Duke City Marathon October 26th
Head for downtown Albuquerque this Sunday, October 26th for the Duke City Marathon, Half-marathon, 5K, and Kids K. You'll find lots of local runners and you might also recognize some of the volunteers and organizers. Some of the same people who help out with the Socorro triathlon and Fat Tire Fiesta are responsible for making this huge event possible, like Peter Romero, Matt Segura, and Nancy Herron. Peter is an SSR member and a Socorro resident and has been a mainstay of SSR since day one.
If you'd like to run, register at www.dukecitymarathon.com. If you'd like to volunteer, call Peter at 507-5556.
World Run Day is November 9th
World Run Day, a running fundraiser that benefits charities worldwide, is November 9th. Coincidentally, that corresponds with the last race in the Fall Running Series, and so we've linked the two events.
We've chosen the Animal Protective Association of Socorro to be our charity for the event, and we will be accepting voluntary donations for them at any time. If possible, bring your donation to the race on November 9.
Also, you can register at Active.com for $12.99 and receive a World Run Day t-shirt.
Fall Running Series Race #3
Six runners competed at the third race in the Fall Running Series on Sunday, October 19th. The overall winners were Ephraim and Julie Ford, repeating the results of the first race. Full series standings can be found here.

As mentioned in another article on this page, the last race, on November 9, is linked with World Run Day, a worldwide day of running and charity. Register at Active.com for $12.99 and receive a World Run Day t-shirt. We will also be accepting voluntary donations for the Animal Protective Association of Socorro. Prizes go to the overall winners in each of four age groups in both genders. The series fee is $5 and that'll buy entry into both of the remaining two races and a series T-shirt. All races meet in front of the EMRTC building (at the rattlesnake sculpture). The actual courses will be determined later. Download a printable flyer here. Click here to see the current standings in the 2003 Fall Running Series.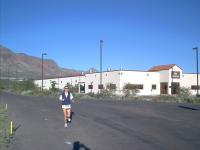 Julie Ford at the October 19 5K
Regular Rides and Runs Around Socorro
These are not SSR-sponsored club events!
Cycling (Road): MWF 11:30 AM, meet at the IRIS Parking Lot.
Cycling (MTB): Friday 11:30 AM, meet at the IRIS Parking Lot (not very regular!).
Running: Sunday social run, meet at Tech pool parking lot, 8AM Sundays .
Like to start a new regular run or ride? Contact Matt Perini to get it listed here.