Owl Bar Run November 21st
The Owl Bar Run, which is about 13 miles from New Mexico Tech to the Owl Bar in San Antonio, will be held on Friday, November 21st. This is an informal run (or bike) with minimal support. Stop in at the Tech gym to tell them that you're leaving, then follow the signs written on the pavement from Tech, down School of Mines Road, past San Miguel Mission, and down Otero Street to the Low Flow Channel road. The Tech Gym will place water every two miles along the Low Flow Channel road, starting at mile 4. That road will take you all the way to Hwy 380 about one mile east of the Owl Bar in San Antonio. The Owl will give you a free beer (just one!) if you tell them you've done the Owl Bar Run.
If you'd like to run with a group, one will be leaving from the Tech Gym at 3PM. This should get you to the Owl in time to catch the Tech van, which will leave at 5:30PM. Be sure to be prepared for cool weather, and enjoy this classic near-half-marathon run!
New Date For November Hash
The Socorro Hash House Harriers will meet again on Tuesday, November 18th. Meet at the Socorro Springs Brewing Company at 6:00PM for a 6:15PM start. This will be a night hash, so bring a flashlight!
Read the Hash Trash review of the Halloween Hash to see what hashing's about.
SSR Sponsors Socorro Balloon Rally
Socorro Striders And Riders is pleased to announce its participation in the sponsorship of the 2003 Socorro Balloon Rally, to be held on the weekend of November 29-30. This event also includes Socorro's favorite parade, the Candy Cane Electric Light parade, and the posole cookoff. Check out the Chamber of Commerce web page for more details.
Christmas Party December 14th
It's never too early to start thinking about another party! Striders And Riders will hold their annual Christmas Party at the Perini home near San Antonio on Sunday, December 14th. Details like whether the party will be catered, pot luck, or whatever are still being worked out. We'd like to have a ride or run (or both) in the early afternoon before the party, so please give us some suggestions.
Artwork Contests Announced for Triathon and Fat Tire Fiesta
SSR is seeking submissions from area artists for event logo artwork for its premier events, the Socorro Chile Harvest Triathlon, and the Socorro Fat Tire Fiesta. The triathlon, which will be held on August 14, 2004, has a submission deadline of February 1st; the Fat Tire Fiesta, which will be held on September 18-19, 2004, has a submission deadline of April 1st. We will also be considering designs for custom awards for both events. Contact SSR for more details.
For Sale
World Run Day and
Fall Running Series Results
The final Fall Running Series race, also the World Run Day race, turned out 11 runners on Sunday, November 9th. Tyler Haughness was the first to complete the 5K, in 18 minutes, 45 seconds. Age group winners for the entire series were:
| | |
| --- | --- |
| 19-under Male | David Romero |
| 20-34 Male | Ephraim Ford |
| 20-34 Female | Julie Ford |
| 35-54 Male | Robert Abernathy |
| 35-54 Male | Kim Schaffer |
| 55-over Male | Bill Brundage |
| 55-over Female | Caryl Baron/Catharine Stewart-Roach |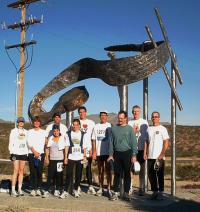 Many of the runners who ran the Fall Running Series

For World Run Day, we also collected $112.50 in donations for the Animal Protective Association of Socorro. Thanks to all of the participants in the Fall Running Series and World Run Day, and we hope to see you again soon!

Click here to see the final standings of the 2003 Fall Running Series.
Officer Elections To Be Held In January
The next business meeting of Socorro Striders And Riders will be at 6PM on January 6th, 2004, at the Spoke 'n' Word bike shop on the Socorro Plaza. The main business will be election of officers for the 2004 year. The current officers are: President Robert Abernathy, Vice President Cathy Perini, and Secretary/Treasurer Matt Perini. Any or all are willing to be replaced. If you'd like bigger say in the direction this club takes, or in the activities it promotes, volunteer for a job.
Spring Running Series Announced
SSR will promote its Spring Running Series again in 2004, again with a handicap format. The plan is for four races starting in January and occurring every four weeks. Distances will be between 3K and 12K, but the distance and course won't be announced until the race! (This just in: the first race will be a 5K.)
Regular Rides and Runs Around Socorro
These are not SSR-sponsored club events!
Cycling (Road): MWF 11:30 AM, meet at the IRIS Parking Lot.
Cycling (MTB): Friday 11:30 AM, meet at the IRIS Parking Lot (not very regular!).
Running: Sunday social run, meet at Tech pool parking lot, 8AM Sundays .
Like to start a new regular run or ride? Contact SSR to get it listed here.