2004 Tentative Statewide Race Calendar
A tentative statewide calendar has been added along this page's left margin. Check it out, I have recently included the Defined Fitness Duathlon. Also, the Chile Harvest Triathlon is scheduled to be on August 14th; make sure you have the right date!
Related Meetings Coming Up
The New Mexico Department of Transportation's Bicycle, Pedestrian and Equestrian Advisory Committee (BPE) will be meeting in Socorro on March 18 from 8:30 a.m. - 3:00 p.m. at Socorro Town Hall, 111 School of Mines Road.
The BPE is working on a three year cycle of Annual Reports which will be used to develop a long range non-motorized transportation plan. Your participation in the meetings is welcomed. Contact Greg White if you are interested.
Also, Margaret Michael, the New Mexico state representative for the American Cycling Association, of which we are a member, is looking for one of us to become an official. According to her, such a member would be help to us when we put on our events. There is a clinic around the end of February, so contact her if you are interested.
Margaret Michael NM/TX ACA Representative 11721 Coyote Run NE Albuquerque, NM 87122
Phone and Fax: (505)821-7226 Cell: (505)450-7221
A February Hash For The Ages
The Socorro Hash House Harriers met again on Thursday, February 5th. Learn all about it here. The next hash is March 4th.
Read one of the Hash Trash reviews for October's review of the Halloween Hash, November's review, December's Red Dress Run Report, or January's to see what hashing's about.
Artwork Contests Announced for Triathlon and Fat Tire Fiesta
SSR is seeking submissions from area artists for event logo artwork for its premier events, the Socorro Chile Harvest Triathlon, and the Socorro Fat Tire Fiesta. The triathlon, which will be held on August 14, 2004, has a submission deadline of February 1st; the Fat Tire Fiesta, which will be held on September 18-19, 2004, has a submission deadline of April 1st. We will also be considering designs for custom awards for both events. Contact SSR for more details.
Mt Taylor Quadrathlon
Grants, NM, only two hours away from Socorro, holds the most popular multisport race in New Mexico every President's Day weekend. That's the Mt Taylor Quadrathlon, a bike/run/ski/snowshoe race that covers 22 miles from the town of Grants to the 11301' peak of Mt Taylor, and then reverses itself for the 22 miles back to Grants. The race also attracts many out-of-state visitors to Grants, most of which come from Colorado and Arizona.
This year, there were nearly 280 soloists in the Quad, and about the same number of people in 4-person teams and 2-person pairs. Socorroans included soloist Matt Perini, the "New Mexico Tech Viejos + 1" team (Tim Hankins, Don Trout, Carl Popp, Ron Thomas) and the "Add and Subtract" pair (Addy Bhasker, Paul Krehbiel). Bhasker was the only rookie, doing the bike and run for the first time.
The soloists start at 9AM, an hour before the teams and pairs, and it was a cold 20-degrees outside when the bikes got rolling. But after a few minutes of climbing the mountain, enough heat is generated to make up for it. Perini took time off every leg of his third attempt at the Quad, finally finishing 70 minutes faster than in 2003, in 5 hours, 37 minutes. The Viejos, starting an hour later, made up more than half an hour on Perini, finishing in 5:04, and winning their age group. "Add and Subtract" also won their age group, finishing in 5:49. The overall winners were Coloradoans Josiah Middaugh (3:41) and Danelle Ballange (4:10). This was Ballangee's 7th win, and Middaugh's first, after taking second in a close finish in 2003.
American Cancer Society Relay For Life
The Relay For Life will be held June 25-26th this year. Participation is always appreciated, so contact Fred Yarger or Camille Scielzi for more information.
Shaken Baby Alliance's A Ride to Action
The Shaken Baby Alliance (www.shakenbaby.com) is putting on a fundraising & awareness raising bicycle ride in Albuquerque, New Mexico on Saturday, May 22, 2004. Click here for more information and how to help.
Total Immersion Workshop
Total Immersion is holding a freestyle swimming weekend workshop in Albuquerque March 6-7, 2004. Total Immersion is the world's leading source of hands-on swim instruction, teaching more improvement-minded swimmers each year than all other swim clinics combined. This is the quickest, most effective way to learn the essential skills of Fishlike Swimming for triathletes of all levels – from novice to advance. You will continue to see improvement for weeks, months and years to come.
If two or more members of the tri club would like to sign-up, TI can offer a discount price of $400.00 per person. Please give our office a call at (800)609-7946 (9 a.m. – 5 p.m. Monday – Friday) or check our website at www.totalimmersion.net.
Spring Handicapped Running Series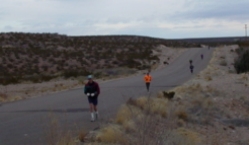 The second Spring Running Series race, a 3.5k, turned out 8 runners on Sunday, February 23rd. Congratulations go to Travis for finishing first!!

The next race will also be at the Snake, date TBA. Length will be between 2k and 10k (it is a surprise).

Click here to see the some nice photos of the first race, full results, and current standings of the 2004 Spring Running Series.
Regular Rides and Runs Around Socorro
These are not SSR-sponsored club events!
Cycling (Road): MWF 11:30 AM, meet at the IRIS Parking Lot.
Cycling (MTB): Friday 11:30 AM, meet at the IRIS Parking Lot (not very regular!).
Cycling (MTB): Sunday 10 AM (no-drop), meet at Spoke-N-Word.
Running: Sunday social run, meet at Tech pool parking lot, 8AM Sundays .
Like to start a new regular run or ride? Contact SSR to get it listed here.
For Sale