2004 Socorro Chile Harvest Triathlon's Website Is Up!
Information regarding this year's Chile Harvest Triathlon, scheduled on August 14th, can now be found on its website.
Now Taking De Soto Orders

The club is now taking discounted orders from De Soto Sports, a top triathlon apparel company. Get in touch with Robert or Matt to let them know what you want or ask for the catalog. I believe it is a 25% discount.


Local Athletes and Results

The other weekend Mike, Sandy, and Addy did us proud. Way to go Addy - congratulations on your win!

Two Days of Estancia Road Race (cycling)
NM Road Series D Class:
Day 1:

Mike Dennis

/ 4th
Day 2:

Mike Dennis

/ 5th

Defined Fitness Duathlon - 5K/30K/5K
F40-44 /

Sandy Nolen

/ 2nd / 1:52:26
F45-49 /

Addy Bhasker

/ 1st / 1:59:30

Mt Taylor Quadrathlon Results

Grants, NM, only two hours away from Socorro, holds the most popular multisport race in New Mexico every President's Day weekend. That's the Mt Taylor Quadrathlon, a bike/run/ski/snowshoe race that covers 22 miles from the town of Grants to the 11301' peak of Mt Taylor, and then reverses itself for the 22 miles back to Grants.
This year, there were nearly 280 soloists in the Quad, and about the same number of people in 4-person teams and 2-person pairs. Socorroans included soloist Matt Perini, the "New Mexico Tech Viejos + 1" team (Tim Hankins, Don Trout, Carl Popp, Ron Thomas) and the "Add and Subtract" pair (Addy Bhasker, Paul Krehbiel). Bhasker was the only rookie, doing the bike and run for the first time.
The soloists start at 9AM, an hour before the teams and pairs, and it was a cold 20-degrees outside when the bikes got rolling. But after a few minutes of climbing the mountain, enough heat is generated to make up for it. Perini took time off every leg of his third attempt at the Quad, finally finishing 70 minutes faster than in 2003, in 5 hours, 37 minutes. The Viejos, starting an hour later, made up more than half an hour on Perini, finishing in 5:04, and winning their age group. "Add and Subtract" also won their age group, finishing in 5:49. The overall winners were Coloradoans Josiah Middaugh (3:41) and Danelle Ballange (4:10). This was Ballangee's 7th win, and Middaugh's first, after taking second in a close finish in 2003.

The Hashers Weren't Rained Out!

The Socorro Hash House Harriers met up with the Albuquerque hashers on April 3rd. Learn all about it here. The next hash is TBD.


Read one of the Hash Trash reviews for October's review of the Halloween Hash, November's review, December's Red Dress Run Report, January's, February's, or March's to see what hashing's about.
American Cancer Society Relay For Life
The Relay For Life will be held June 25-26th this year. Participation is always appreciated, so contact Fred Yarger for more information.
Shaken Baby Alliance's A Ride to Action
The Shaken Baby Alliance (www.shakenbaby.com) is putting on a fundraising & awareness raising bicycle ride in Albuquerque, New Mexico on Saturday, May 22, 2004. Click here for more information and how to help.
Spring Handicap Running Series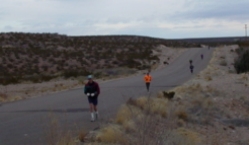 The third Spring Running Series race, a 7k, turned out 9 runners on Sunday, March 21st. The were some great photos taken of the participents, and thanks again to the Schaffers. Also, congratulations go to Matt for winning his second race!

The next race will be during the week of April 19th-23rd. This will be an evening run and will be hosted by Ephraim and Julie Ford @ 505 Leroy Pl. Length will be between 2k and 10k (it is a surprise).

Click here to see the some nice photos of the first and third races, full results, and current standings of the 2004 Spring Running Series.
Regular Rides and Runs Around Socorro
These are not SSR-sponsored club events!
Cycling (Road): MWF 11:30 AM, meet at the IRIS Parking Lot.
Cycling (MTB): Friday 11:30 AM, meet at the IRIS Parking Lot (not very regular!).
Cycling (MTB): Sunday 10 AM (no-drop), meet at Spoke-N-Word.
Running: Sunday social run, meet at Tech pool parking lot, 8AM Sundays .
Like to start a new regular run or ride? Contact SSR to get it listed here.
For Sale