2004 Socorro Chile Harvest Triathlon's Website Is Up!
Information regarding this year's Chile Harvest Triathlon, scheduled on August 14th, can now be found on its website.
The Fat Tire Trail Guide Is Also Up!
Please take some time to check out this awesome resource on local MTB trails!. Access it here.
Local Athletes and Results

Jay Benson Results
More local triathletes made the trek to ABQ for the Jay Benson Memorial Triathlon. Here is a brief listing of their results (with AG finish). Way to go Jennell, Alyssa, Erika, Katrina, Terry, and Catherine for placing!
Terry Moore 1st OVERALL! 1:00:29
David Burleigh 17th 1:12:02
Katrina Burleigh 2nd 1:11:16
Erika Burleigh 2nd 1:20:19
Robert Abernathy 17th 1:17:19
EP Higgs 1:12:56
Jennell Higgs 2nd 1:22:38
Alyssa Higgs 1st 1:09:35
Catherine Stewart-Roache 2nd 1:43:02
MVTC Tri Results
On April 18th quite a few of us made it down to Las Cruces for the MVTC Tri. Check out the full results!

Next Hash is June 10th!!

The first hash since school ended, so some excuses are no longer valid... We will meet at the Socorro Springs Brewery at 6PM. Also, if you dare, read about the last hash on May 13th here.


Read one of the Hash Trash reviews for October's review of the Halloween Hash, November's review, December's Red Dress Run Report, January's, February's, March's, or April's to see what hashing's about.
American Cancer Society Relay For Life
The Relay For Life will be held June 25-26th this year. Participation is always appreciated, so contact Fred Yarger for more information.
Shaken Baby Alliance's A Ride to Action
The Shaken Baby Alliance (www.shakenbaby.com) is putting on a fundraising & awareness raising bicycle ride in Albuquerque, New Mexico on Saturday, May 22, 2004. Click here for more information and how to help.
Spring Handicap Running Series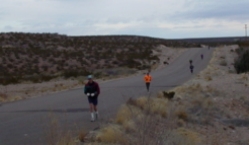 The fourth Spring Running Series race, a 5k, turned out a bunch of runners on Thursday, April 22nd. The were some great photos taken of the participents, and thanks again to the Fords for hosting the group. Also, congratulations go to the humble Glenn for winning the race! And an even heartier congratulations to Matt for winning the overall series!!

Click here to see the some nice photos of the first, third, and fourth races, and the final standings of the 2004 Spring Running Series.
Regular Rides and Runs Around Socorro
These are not SSR-sponsored club events!
Cycling (Road): MWF 11:30 AM, meet at the IRIS Parking Lot.
Cycling (MTB): Friday 11:30 AM, meet at the IRIS Parking Lot (not very regular!).
Cycling (MTB): Sunday 10 AM (no-drop), meet at Spoke-N-Word.
Running: Sunday social run, meet at Tech pool parking lot, 7 AM Sundays .
Like to start a new regular run or ride? Contact SSR to get it listed here.
For Sale