Upcoming Races and Local Race Results
<![if !supportLists]>· <![endif]>FALL RUNNING SERIES! (5K's throughout the Fall )
Wednesday, October 26 at 5:30 PM
Saturday, November 12 at 9 AM
Southwest Championship Series
The 2005 season is over for the world's oldest Triathon and Duathlon series. Socorro athletes can be proud this year, there are 4 champions in our midst. Ephraim Ford so dominated his age group with 69.75 points that none dared to challenge him. Julie Ford took second in her age group with 72.25 points, although there is no shame to finishing second to Shanna Armstrong. Rheda Brown finished second of the Athena category with 49 points. Christian Krueger took third in the Elite category with 51.125 points (7 races). Matt Perini was pushed into fourth in his age group with 52.375 points in just the last few races. Matt's age group was tough, with a total of 8 qualifiers with 8 or more races, more than any other group. Robert Abernathy qualified in the same group, finishing 8th with 37.125 points. (Yes, I know I was last, you don't have to point it out. And, yes, I did have the lowest point total of any 8 race qualifier, how clever of you to notice.) Final results are here.
Awards are given out for the top three finishers in all categories and here will be a banquet for the champions on the evening of Dec 10 (same day as the Polar Bear Triathlon at WSMR) in the Fort Bliss Officer's Club in El Paso, TX. Details should be available later this month.
2005 Fat Tire Fiesta
The annual off-road bicycle festival was held over the weekend of September 16-18. There were a total of 62 participants, exceeding expectations. Many positive comments about the rides with high expectations for next year. The committee is already working on the new schedule. And the M Mountain ride will be back, with (we can only hope) a slightly easier approach to the peak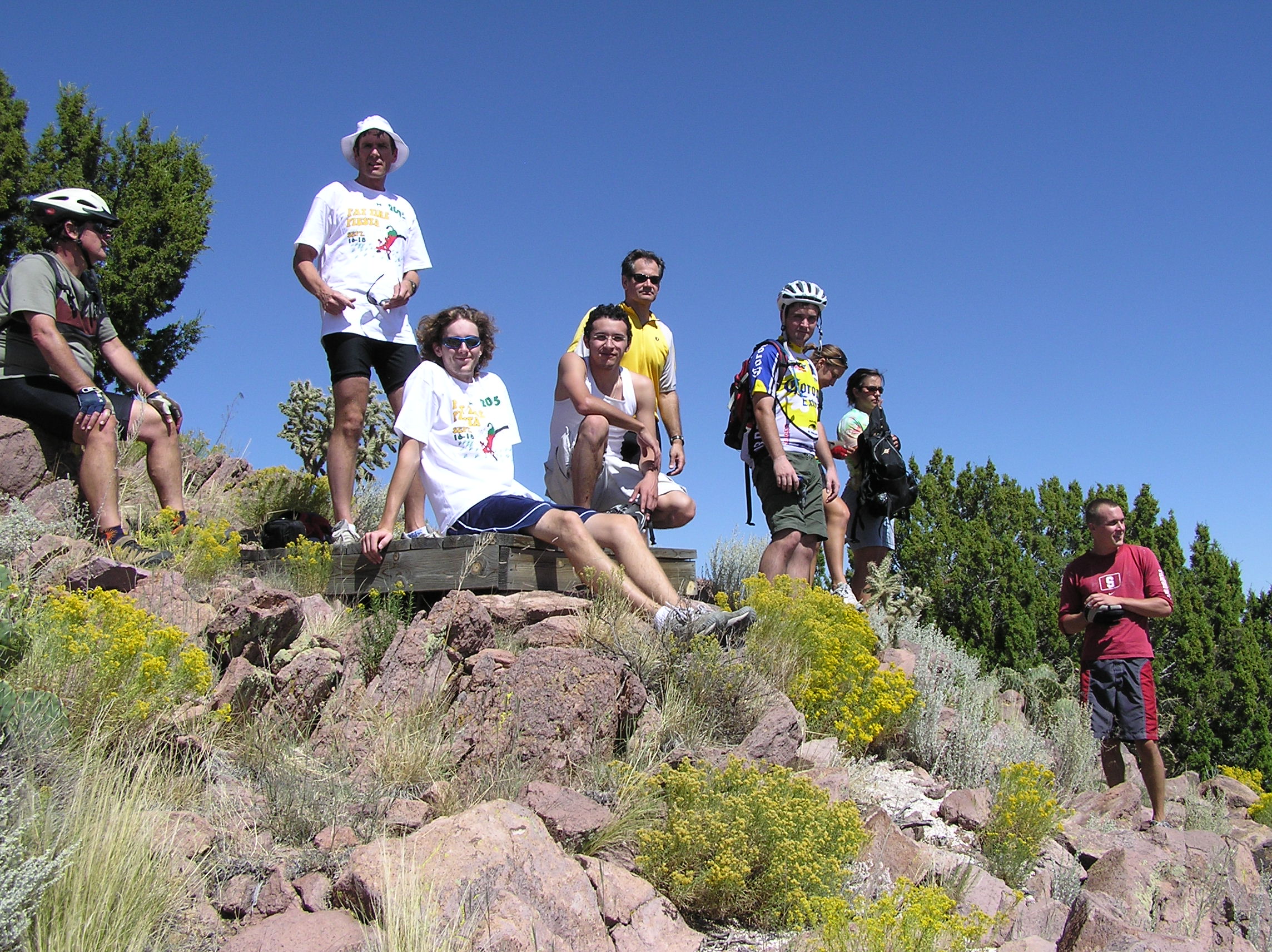 Intrepid M Mountain bikers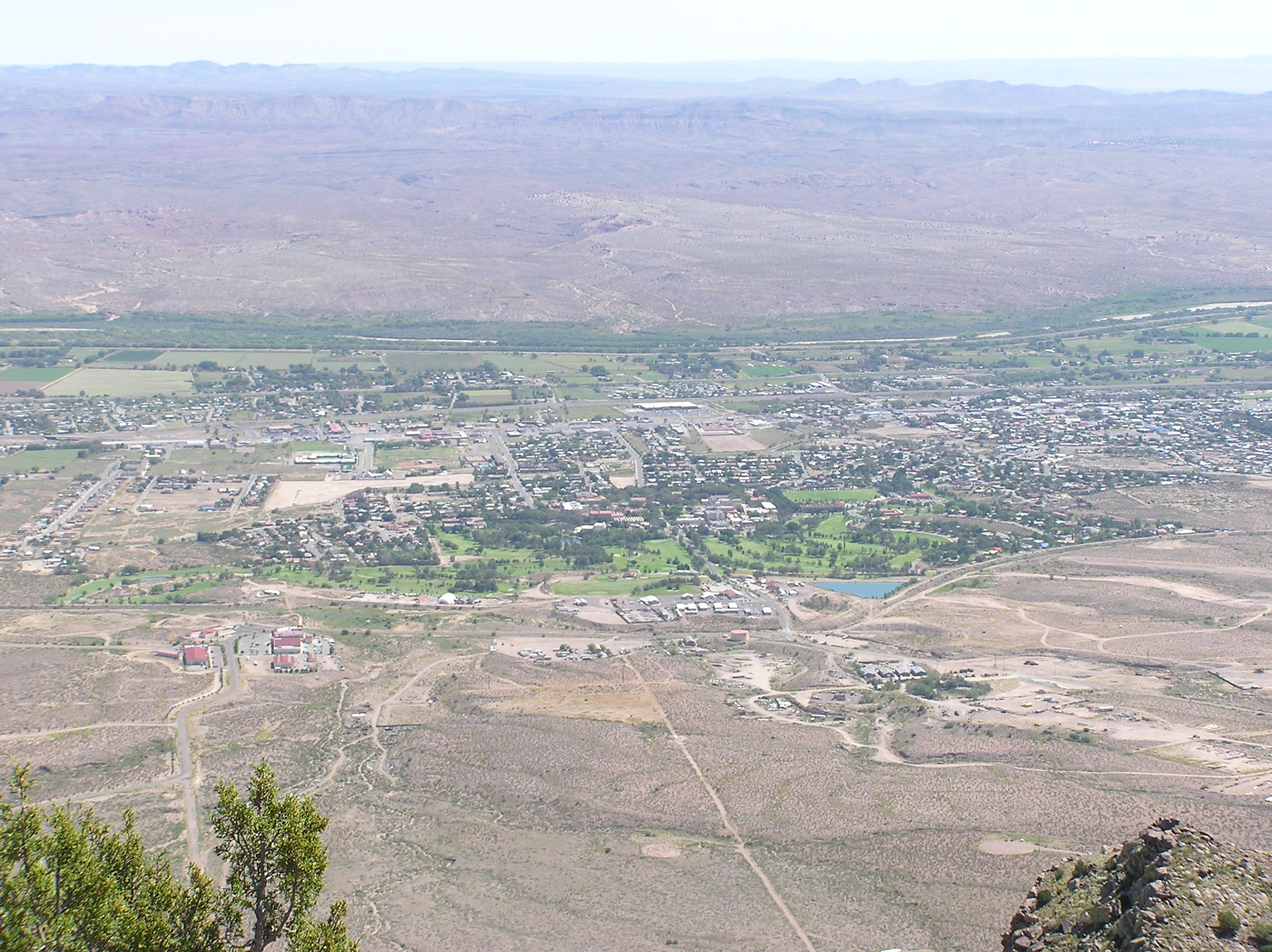 The view from the top of M Mountain
*****
2005 Fall Running Series
The Fall Running Series is heating up! Times are dropping and more competitors are vied for the top slots. Click HERE for the official poster. Average scores in red indicate the participate has qualified for the race series championship
Participant

Current

Place

Average

Time

Race

1

Race

2

Race 3

Race

4

Male 20-34

Brad Dotson

1st

0:23:25

0:24:00

0:22:50

Remke Van Dam

2nd

0:24:45

0:25:08

0:24:22

Ephraim Ford

3rd

0:21:19

0:21:19

-

Nick Smallridge

4th

0:21:55

0:21:55

David Romero

5th

0:22:08

0:22:08

-

Robert Baca

6th

0:23:12

0:23:12

-

Peter Van Moorsel

7th

0:24:32

0:24:32

Female 20-34

Sydney Ryan

1st

0:23:03

0:23:03

Julie Ford

2nd

0:24:35

0:24:35

-

Male 35-54

Travis Newton

1st

0:30:25

0:31:39

0:29:11

Kevin Wedeward

2nd

0:30:41

0:31:42

0:29:41

Shingo Date

3rd

0:21:35

0:21:35

-

Joe McMullin

4th

0:24:15

0:24:15

-

Robert Abernathy

5th

0:25:23

0:25:23

-

Matt Perini

6th

0:26:07

0:26:07

-

Fred Yarger

7th

0:33:12

0:33:12

Female 35-54

Rheda Brown

1st

0:40:26

0:40:47

0:40:05

Male 55-up

Bill Brundage

1st

0:30:39

0:32:11

0:29:08
*****
The Next Hash will be on the 6th of October
Stay tuned for details!
Read one of the Hash Trash reviews from September 2005's Labor Day Hash, August 2005's Tech Dress-up Hash, July 2005's Hash, June 2005's Hash, May 2005's Cinco De Mayo Hash, April 2005's Spring Forward Hash, March 2005's St. Patty's Hash, February 2005's Valentine's Day Hash, January 2005's Hash, December 2004 Red Dress Run, November 2004's, 2004's Halloween Hash, September, August, July, June, May, April, March 2004, February 2004, January 2004, December 2003's Red Dress Run Report, November 2003, or October 2003 Halloween Hash to see what hashing's about.
Regular Rides and Runs
Around

Socorro

These are not SSR-sponsored club events!
Cycling (Road): MWF 11:30 AM, meet at the IRIS Parking Lot.
Cycling (MTB): Friday 11:30 AM, meet at the IRIS Parking Lot (not very regular!).
Cycling (MTB): Sunday 10 AM (no-drop), meet at Spoke-N-Word.
Running: Sunday social run, meet at Tech pool parking lot, 7 AM Sundays
Like to start a new regular run or ride? Contact SSR to get it listed here.
*****