Upcoming Races and Local Race Results
WSMR Century on November 5th!!
Sorry for the late notice, but there is a unique opportunity to tour the White Sands Missile Test Range by bike at the WSMR Century on Saturday, 5 Novemeber 2005.
They need at least 50 riders to register to make it happen. Registration: Last day to register is OCTOBER 31, 2005. A minimum of 50 riders is required. There is NO registration on day of event so register with this form.
THIS IS NOT A RACE! Start as soon as you are checked in. Riders who are not off route by 6:00 pm will be picked up. Route is actually +/- 108 miles and has less then 2000 feet of elevation gain. Riders must wear helmets . No cameras allowed on the route. Most of the ride is on White Sands Missile Range, a restricted military installation. No spectators or supporters are allowed on the route. Event may be cancelled due to range activity. Date: NOVEMBER 5, 2005 Time: Check in between 6:30 to 7:30am. Start the ride as soon as check-in is complete. Fee: $35 fee includes T-shirt, lunch, and refreshments.
Registration: Last day to register is OCTOBER 31, 2005. A minimum of 50 riders is required. There is NO registration on day of event. Safety: A Helmets must be worn. Also, Army regulations prohibit the wearing of headphones while bicycling on a military installation. When you pick up your T-shirt you will be required to read and sign a hazards orientation letter. The waiver on the registration form must be signed to participate.
Southwest Championship Series
The 2005 season is over for the world's oldest Triathon and Duathlon series. Socorro athletes can be proud this year, there are 4 champions in our midst. Ephraim Ford so dominated his age group with 69.75 points that none dared to challenge him. Julie Ford took second in her age group with 72.25 points, although there is no shame to finishing second to Shanna Armstrong. Rheda Brown finished second of the Athena category with 49 points. Christian Krueger took third in the Elite category with 51.125 points (7 races). Matt Perini was pushed into fourth in his age group with 52.375 points in just the last few races. Matt's age group was tough, with a total of 8 qualifiers with 8 or more races, more than any other group. Robert Abernathy qualified in the same group, finishing 8th with 37.125 points. (Yes, I know I was last, you don't have to point it out. And, yes, I did have the lowest point total of any 8 race qualifier, how clever of you to notice.) Final results are here.
Awards are given out for the top three finishers in all categories and here will be a banquet for the champions on the evening of Dec 10 (same day as the Polar Bear Triathlon at WSMR) in the Fort Bliss Officer's Club in El Paso, TX. Details should be available later this month.
2005 Fat Tire Fiesta
The annual off-road bicycle festival was held over the weekend of September 16-18. There were a total of 62 participants, exceeding expectations. Many positive comments about the rides with high expectations for next year. The committee is already working on the new schedule. And the M Mountain ride will be back, with (we can only hope) a slightly easier approach to the peak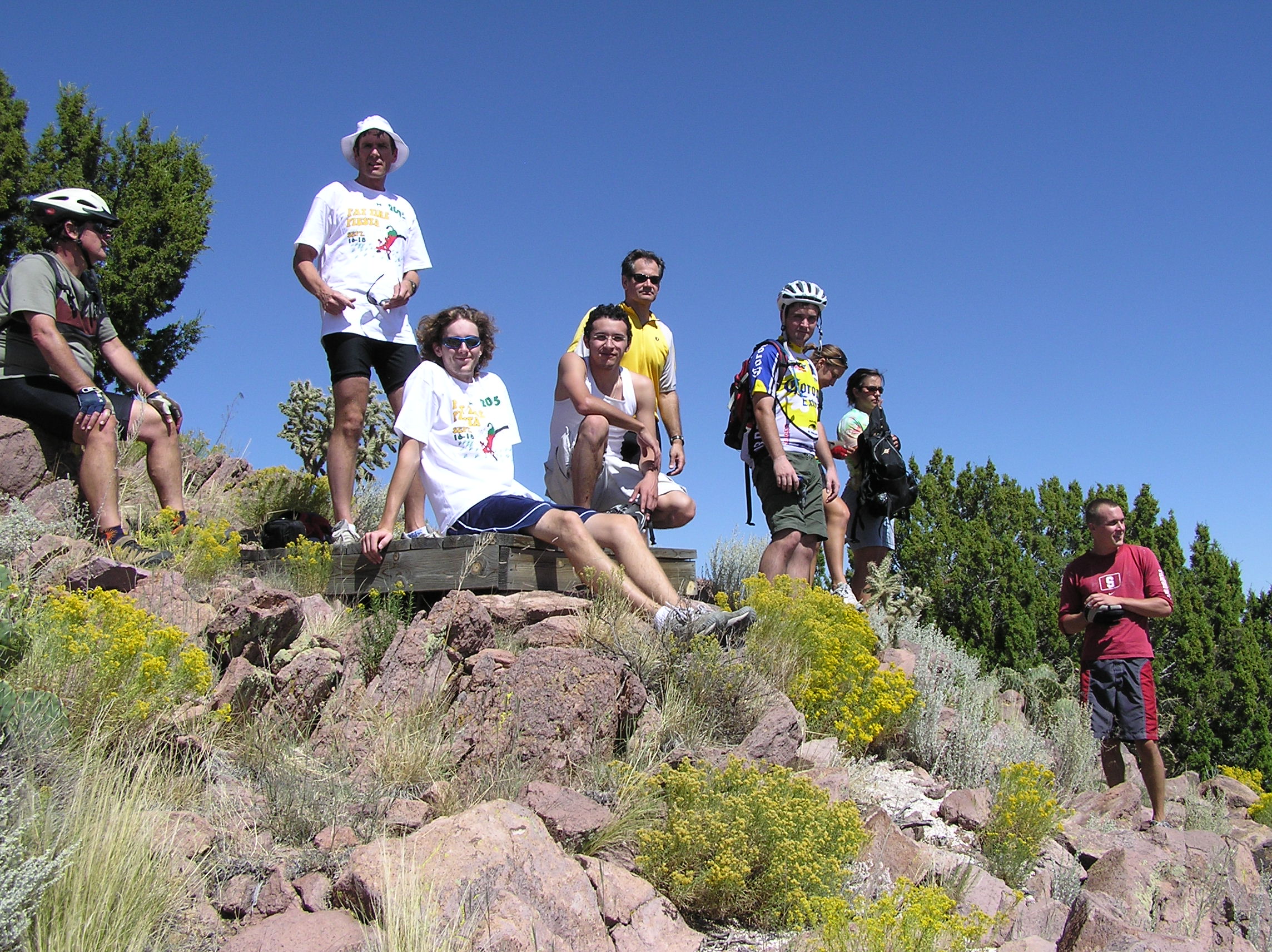 Intrepid M Mountain bikers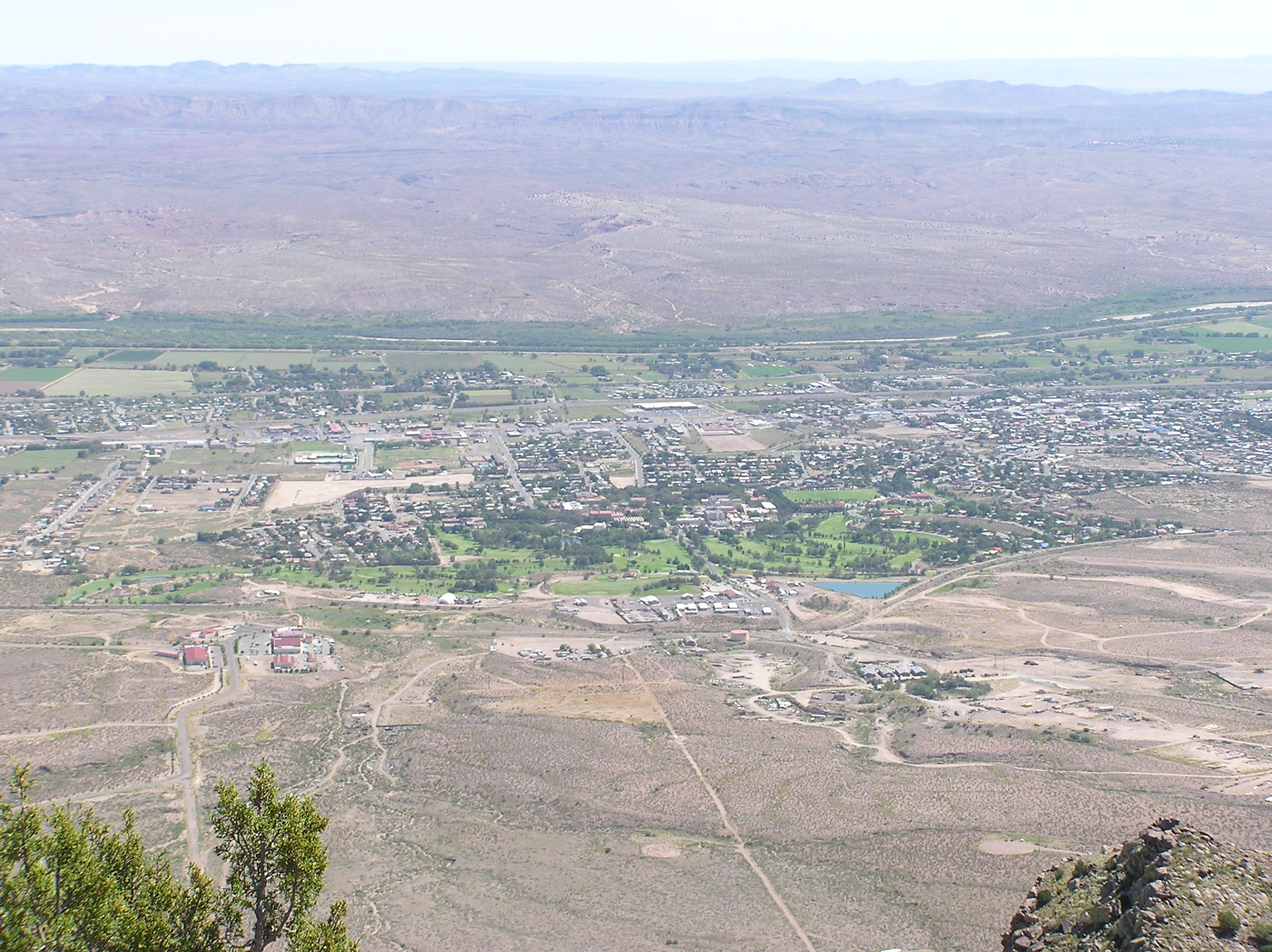 The view from the top of M Mountain
Regular Rides and Runs Around Socorro
These are not SSR-sponsored club events!
Cycling (Road): MWF 11:30 AM, meet at the IRIS Parking Lot.
Cycling (MTB): Friday 11:30 AM, meet at the IRIS Parking Lot (not very regular!).
Cycling (MTB): Sunday 10 AM (no-drop), meet at Spoke-N-Word.
Running: Sunday social run, meet at Tech pool parking lot, 8 AM Sundays .
Like to start a new regular run or ride? Contact SSR to get it listed here.