Upcoming Races and Local Race Results
Polar Bear Triathlon

Saturday, December 10th
Southwest Championship Series
The 2005 season is over for the world's oldest Triathon and Duathlon series. Socorro athletes can be proud this year, there are 4 champions in our midst. Ephraim Ford so dominated his age group with 69.75 points that none dared to challenge him. Julie Ford took second in her age group with 72.25 points, although there is no shame to finishing second to Shanna Armstrong. Rheda Brown finished second of the Athena category with 49 points. Christian Krueger took third in the Elite category with 51.125 points (7 races). Matt Perini was pushed into fourth in his age group with 52.375 points in just the last few races. Matt's age group was tough, with a total of 8 qualifiers with 8 or more races, more than any other group. Robert Abernathy qualified in the same group, finishing 8th with 37.125 points. (Yes, I know I was last, you don't have to point it out. And, yes, I did have the lowest point total of any 8 race qualifier, how clever of you to notice.) Final results are here.
The Invitation to the Awards Banquet
Dear Competitor,
The Southwest Challenge Series congratulates you for your efforts for the 2005 season and thanks you for your support and participation.
We hope you will join your fellow athletes at the awards banquet to be held Saturday, December 10, 2005 in El Paso at the Officer's Club on Fort Bliss. Following last year's successful and popular precedent, this year's banquet will once again be a formal affair. Tuxedo is preferred, coat & tie acceptable. The dinner will be buffet style featuring a choice of roast pork loin or sesame chicken teriyaki. The cost Per Person will be $25.00, half price for children under twelve. This includes your dinner, the awards ceremony, and dancing until 1 AM. There will be a CASH bar that opens at 6PM. Dinner served at seven. This is the same evening as the Polar Bear triathlon, which will be held earlier in the day at White Sands. Base passes will be handed out at the post race meal. Checks need to be sent promptly to Zarina Lyle, made out to "Southwest Challenge Series, Inc.". The address is:
James Arthur Lyle & Assoc
Attn: Southwest Challenge Series, Inc.
720 Arizona
El Paso, TX 79912
You do not have to be an award winner to attend. This affair is open to all Series participants, their spouses/friends and family. Please be sensitive to our need for a final head count no later than December 4. It is vitally important that you RSVP your intentions and number of guests as soon as possible by e-mail to Mark Balsiger (mbalsig1@elp.rr.com) and or Zarina Lyle at zarinaflip@msn.com or by phone to Zarina at 915-542-3100.
We worked hard to secure a date coincidental to the Polar Bear in hopes that many of you from out of town will be able to stay the evening in El Paso. Last year was a grand time and this year promises to be especially poignant as we honor our very special Sportsmanship award winning duo of John Stermer and Kathy Ritz, both of whom are extraordinary profiles in courage
We are very excited about seeing everyone strut their stuff in their finest attire and look forward to celebrating the end of this great season with you all.
2005 Fat Tire Fiesta
The annual off-road bicycle festival was held over the weekend of September 16-18. There were a total of 62 participants, exceeding expectations. Many positive comments about the rides with high expectations for next year. The committee is already working on the new schedule. And the M Mountain ride will be back, with (we can only hope) a slightly easier approach to the peak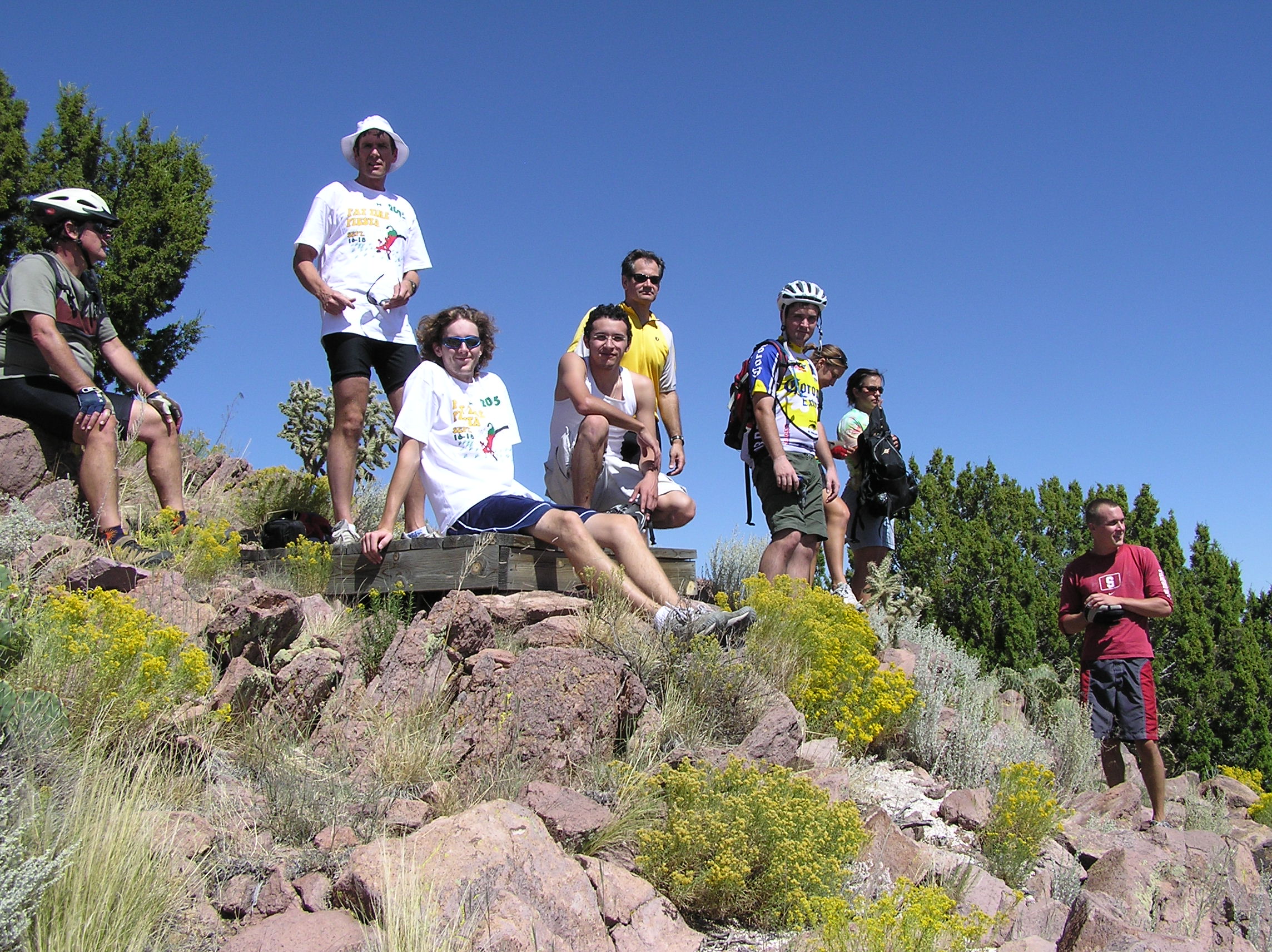 Intrepid M Mountain bikers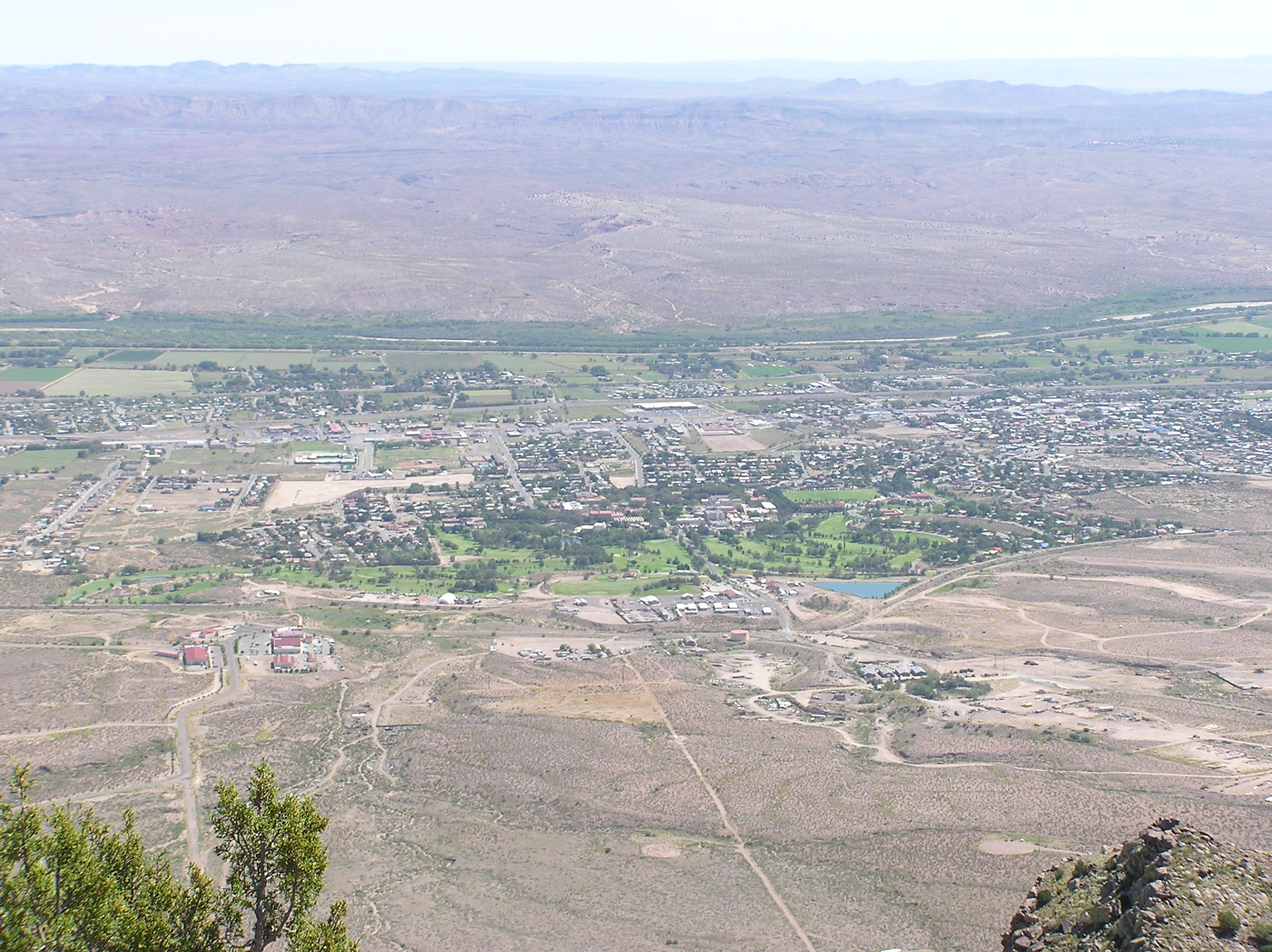 The view from the top of M Mountain
Regular Rides and Runs Around Socorro
These are not SSR-sponsored club events!
Cycling (Road): MWF 11:30 AM, meet at the IRIS Parking Lot.
Cycling (MTB): Friday 11:30 AM, meet at the IRIS Parking Lot (not very regular!).
Cycling (MTB): Sunday 10 AM (no-drop), meet at Spoke-N-Word.
Running: Sunday social run, meet at Tech pool parking lot, 8 AM Sundays .
Like to start a new regular run or ride? Contact SSR to get it listed here.