Upcoming Races and Local Race Results
Important USAT News
USAT recently sent out a newsletter detailing some important rules & fees changes & a new series.
Your race age will be based on your age at the end of the year, the youth membership fee is reduced, and a Grand Prix Series is starting, including a race in Arizona.
Click here for the whole letter.
Polar Bear Triathlon
Six souls braved the cold weather and ventured down to WSMR for the 2006 Polar Bear Triathlon on the 10th of December. Fortunately, it actually "warmed up" a bit from the frigid temperatures New Mexico had been experiencing in the days prior. Perhaps that explained why a few of did so well and why all of us enjoyed our time. Below are our results but things were a little mixed up that day (200+ racers for too few volunteers) so I reserve right to change placements later if mistakes continue to come to light. All times are for 5k run * T1 + 30k Bike * T2 + 400m swim
Christian Krueger 2nd in Elite Male

18:15*48:17*07:11* 1:13:43

Steven Montoya 1st in M25-29

19:41*51:57*08:18* 1:19:56

Ephraim Ford 3rd in M25-29

19:59*54:11*09:28* 1:23:38

Julie Ford 1st in W30-34

22:35*1:00:29*10:15* 1:33:19

Matt Perini 4th in M40-44

24:10*51:52*08:32* 1:24:04

Cathy Pfeifer 4th in F40-44

28:14*57:45*10:42* 1:36:41

Robert Abernathy 6th in M45-49

24:04*1:08:37*11:20* 1:44:01

Rheda Brown 5th in Athena

36:46*1:25:23*17:28* 2:19:37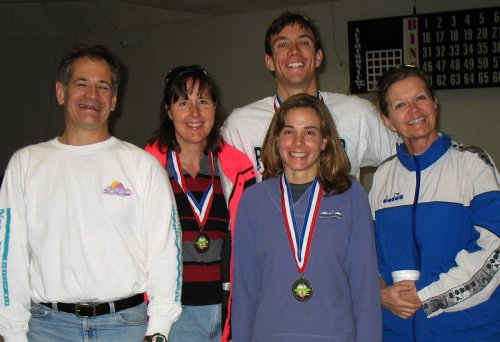 Some of the SSR members at the Polar Bear Triathlon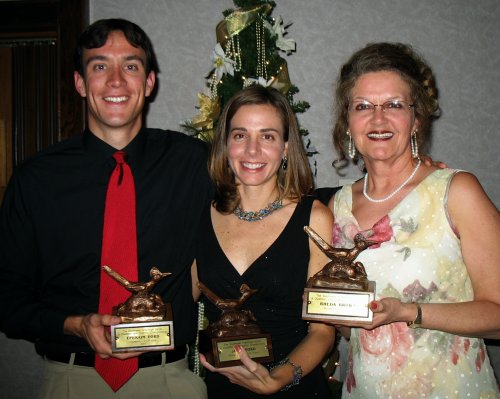 The three SSR members present to receive their SWCS awards
Recent Marathon & Half-marathon Results
Three SSR'ers recently completed some long races. Robert visited Sin City in order to run the Las Vegas Marathon. And boy did he! revenged his nearmiss in San Diego and clocked a 3:56! Full results are www.lvmarathon.com. In fact, he was tenth overall!! Out of all New Mexicans, that is. Great job, Robert!
Linda and Gerry ran (and placed, I believe) in the Rio Grande Half-marathon but we are still waiting for their results to be posted on www.riograndemarathon.com.
Southwest Championship Series
The 2005 season is over for the world's oldest Triathon and Duathlon series. Socorro athletes can be proud this year, there are 4 champions in our midst. Ephraim Ford so dominated his age group with 69.75 points that none dared to challenge him. Julie Ford took second in her age group with 72.25 points, although there is no shame to finishing second to Shanna Armstrong. Rheda Brown finished second of the Athena category with 49 points. Christian Krueger took third in the Elite category with 51.125 points (7 races). Matt Perini was pushed into fourth in his age group with 52.375 points in just the last few races. Matt's age group was tough, with a total of 8 qualifiers with 8 or more races, more than any other group. Robert Abernathy qualified in the same group, finishing 8th with 37.125 points. (Yes, I know I was last, you don't have to point it out. And, yes, I did have the lowest point total of any 8 race qualifier, how clever of you to notice.) Final results are here.
Regular Rides and Runs Around Socorro
These are not SSR-sponsored club events!
Cycling (Road): MWF 11:30 AM, meet at the IRIS Parking Lot.
Cycling (MTB): Friday 11:30 AM, meet at the IRIS Parking Lot (not very regular!).
Cycling (MTB): Sunday 10 AM (no-drop), meet at Spoke-N-Word.
Running: Sunday social run, meet at Tech pool parking lot, 8 AM Sundays .
Like to start a new regular run or ride? Contact SSR to get it listed here.