Upcoming Races and Local Race Results
| | |
| --- | --- |
| Race | Date |
| Fall Running Series #1 | 9/22 |
| Elephant Man Tri | 9/30 |
| Fall Running Series #2 | 10/06 |
| Fall Running Series #3 | 10/27 |
| Fall Running Series #4 | 11/17 |


Ellen Aster wins age group in Imogene Pass Run
Congratulations to Ellen for winning her age group at the very difficult Imogene Pass Run!
Local Athlete completes IM Louisville
Michael Ruth completed his first IM in 13:34. A few days later he was even showing off the bike at the Tech Club Day, surely turning some heads.
Locals in High Standing 2007 NMORS
Take a stroll through the various NMORS standings and you'll see some familiar names, especially near the top of the Single-speed Men's, Sport M19-29, and Beginner Men's 30-39. At a quick glance, Issac and Karl are 2nd & 3rd in their category, David Vaughn and Walter Brisken are 2nd in theirs, and Ellen Aster and Peter van Moorsel have points from racing as well!
Sahuarita Triathlon
Pat Roache recently braved the heat over the Memorial Day weekend in Tucson while participating in the Sahuarita Triathlon. Check out the results, which show that he finished second in his age group.
Jay Benson Triathlon
At least 4 SSR members raced the Jay Benson on May 13th with Catharine Roache and Royce Laine getting second and first in their age groups, respectively, while Melissa Begay and Pete van Moorsel fought through the large crowds to grab top 10 places in theirs. Check out CCR Timing for the official results.

Run For The Zoo
Quite a few locals & members ran in the May 6th Run For The Zoo with great results! Some of the participants were Katie Devine, Robert Abernathy, Pip Mena, Jan Sramek, Lynette Napier, E.P. Higgs, and Dacodah Herkenhoff.

Highlights included Pip winning 2nd in her 10k AG and Lynetter winning 3rd in hers. Congratulations!
Las Palomas (Puerto Peñasco)
Not one to simply enjoy Cinco de Mayo with some beer and Mexican food, Mike Montoya placed third overall in the olympic tri at Rocky Point (on May 5th). He did so well, in fact, that he won his age group by nearly 5 minutes! Official results. And yes, this is

our

Mike Montoya, not the imposter from Albuquerque.
MVTC Triathlon Results
We finally have the results! Way to go to Cathy for grabbing 2nd in her age group.


*****



The Fall Running Series Starts Soon!

It will consist of 4 5k's (see schedule at right), and costs $5 to register PLUS you have to be an active SSR member. This probably means you need to pay another $5!!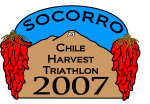 The Socorro Chile Harvest Registration is Over!
The Next Hash will be ...

?????

Read one of the Hash Trash reviews, such as February's, January's, or the one from the Red Dress Run in December. Or go further back and read the trash from November, The HALLOWEEN Hash, Early October, September 2005's Hash, August 2005's Tech Dress-up Hash, July 2005's Hash, June 2005's Hash, May 2005's Cinco De Mayo Hash, April 2005's Spring Forward Hash, March 2005's St. Patty's Hash, February 2005's Valentine's Day Hash, January 2005's Hash, December 2004 Red Dress Run, November 2004's, 2004's Halloween Hash, September, August, July, June, May, April, March 2004, February 2004, January 2004, December 2003's Red Dress Run Report, November 2003, or October 2003 Halloween Hash to see what hashing's about.
SSR Classifieds
Feel free to ask me about posting Want To Buy, Want to Sell, or Want To Trade items
Concept II Rowing Machine (non-pneumatic); Weider Multi-gym ("universal"-style weight machine). Make offers. Call Pat or Catharine at 838-1110.
*****
Regular Rides and Runs Around Socorro
These are not SSR-sponsored club events!

Cycling (Road): Monday, Wednesday AND Friday at NOON!, meet at the IRIS Parking Lot.
Cycling (MTB): Friday 11:30 AM, meet at the IRIS Parking Lot (not very regular!).
Cycling (MTB): Saturday 10 AM (Girls only!), meet at Spoke-N-Word.
Cycling (MTB): Sunday 10 AM (no-drop), meet at Spoke-N-Word.
Running: Sunday social run, meet at Tech pool parking lot,

7:30 AM

Sundays (email to verify!).
Like to start a new regular run or ride? Contact SSR to get it listed here.