Upcoming Races and Local Race Results
Race

Date


Spring Running Series #2

(5k)

2/23

Spring Running Series #3

(5k)

3/8

Spring Running Series #4

(5k)

4/12
First Spring Running Series Results

Congratulations to Liz Clabaugh for winning the first Spring Running Series handicapped race. We had a nearly overwhelming 17 runners, including three who drove up from Las Cruces!

Please recall that the next race will have a post-race brunch. Since I have previously mentioned that all races start at the pool, we will stick to that, finishing at the brunch site. Directions will be provided.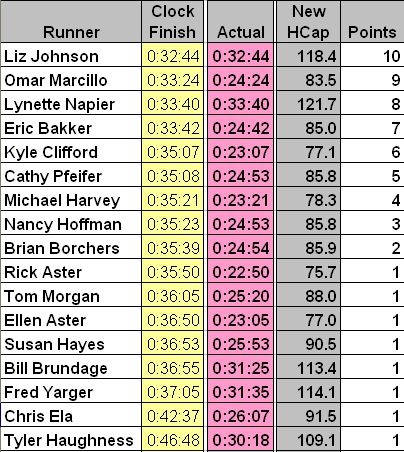 Ex-Socorroan Runs 3nd Annual Yokosuka 1/2 Marathon

Shingo Date took 1 hour 55 minutes 32 seconds (gross time) to complete the race in even chillier (a liittle below 50F) and more gusty conditions when compared to last year, but said that he was was glad that he completed the race.

Good Job Shingo and nice outfit!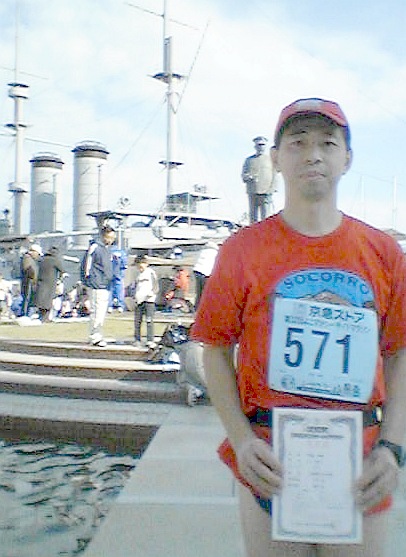 Cathy Places Fifth at SOMA 1/2 IM
It was nearing record highs in Tempe (and that's saying a lot) but Cathy kept her cool and finished fifth out of 30 in her age group! Her final time was 5:37:11 and full results for all of the SOMA races can be found at thier timing website.
Did you know the current U.S. record holder in the Scheeb is an SRS member?
That may have sounded a bit weird, but it's true. On a recent trip to New Zealand, Mark Bottjer took a turn at the Schweeb in Rotorua, NZ. When he stepped out of the recumbent contraption, err, the Schweeb, he was holding the U.S. record at 1:08.92, only 5 seconds off the world record!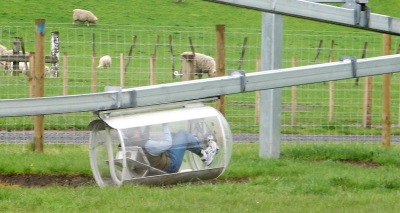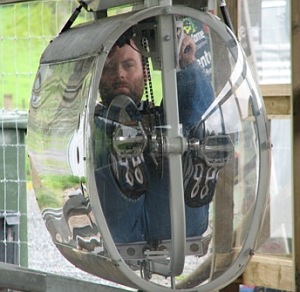 Spring Running Series
It's time for the Spring Running Series again! As usual, it will be handicapped, meaning runners start at different times in order to all finish together (theoretically).


The race dates:

Trail Work Coming Up
We expect to

LEAVE

the coffee shop parking lot by 11 or 12 (stay tunde) on the

19th of January

. Please bring comfortable clothes, some water (we will have some too), and GLOVES! The area of the trail work is near the Camino Real Heritage Center (35 miles south of Socorro).

Winter Time Trials
Four 10k timed bike

training rides

. SSR will set up the course, the starter, and the timer. These are non-competitive and each day requires a $5 daily USA Cycling membership if not already a member.

See the announcement.

December 1st
January 12th
January 26

February 9th
The Next Hash will be ...

????? It's sort of defunct

Read one of the Hash Trash reviews, such as February's, January's, or the one from the Red Dress Run in December. Or go further back and read the trash from November, The HALLOWEEN Hash, Early October, September 2005's Hash, August 2005's Tech Dress-up Hash, July 2005's Hash, June 2005's Hash, May 2005's Cinco De Mayo Hash, April 2005's Spring Forward Hash, March 2005's St. Patty's Hash, February 2005's Valentine's Day Hash, January 2005's Hash, December 2004 Red Dress Run, November 2004's, 2004's Halloween Hash, September, August, July, June, May, April, March 2004, February 2004, January 2004, December 2003's Red Dress Run Report, November 2003, or October 2003 Halloween Hash to see what hashing's about.
SSR Classifieds
Feel free to ask me about posting Want To Buy, Want to Sell, or Want To Trade items
Concept II Rowing Machine (non-pneumatic); Weider Multi-gym ("universal"-style weight machine). Make offers. Call Pat or Catharine at 838-1110.
*****
Regular Rides and Runs Around Socorro
These are not SSR-sponsored club events!

Cycling (Road): Monday, Wednesday AND Friday at NOON!, meet at the IRIS Parking Lot.
Cycling (MTB): Friday 11:30 AM, meet at the IRIS Parking Lot (not very regular!).
Cycling (MTB): Saturday 10 AM (Girls only!), meet at Spoke-N-Word.
Cycling (MTB): Sunday 10 AM (no-drop), meet at Spoke-N-Word.
Running: Sunday social run, meet at Tech pool parking lot,

7:30 AM

Sundays (email to verify!).
Like to start a new regular run or ride? Contact SSR to get it listed here.