Upcoming Races and Local Race Results
Race

Date

Nearly Naked Mile (Las Cruces)
4/2
MVTC Tri (Las Cruces)
4/6
Tax Day Triathlon
4/12

Spring Running Series #4

(5k)

4/12

Tour of Socorro (MTB)

4/19-20
Run For Your Life 5k (Socorro)
4/26
Third Spring Running Series Results

Congratulations to Karen Haughness for winning the 3rd Spring Running Series handicapped race. It was a flat course (and .6% short) and a lot of runners improved their time dramatically!

Brianne Loya also deserves some congratulations as she drove up from Las Cruces to complete her first 5k!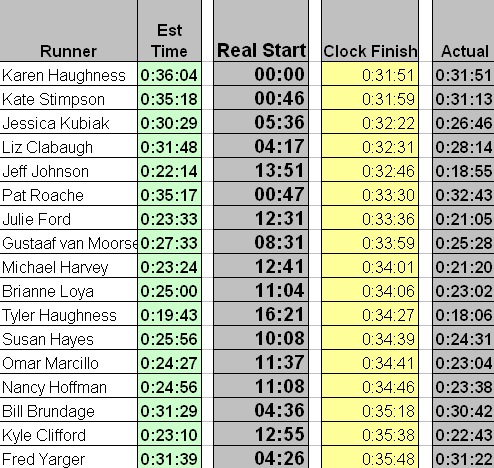 Second Spring Running Series Results

Congratulations to Liz Clabaugh again for winning the 2nd Spring Running Series handicapped race. On a windy day an over a tough course, she was the ONLY racer to beat their handicap, easily winning the field of 25.
Mount Taylor Quadrathlon Results

Quite a performance by some SSers! Lynette, Jan, Mary, and Catharine, aka the Tech Hill Hellcats, took top spot in the 60+ relay, while Cathy Pfeifer won her age group, Jeff Johnson garnered 5th in the large 35-39 class, and Christian Krueger came in 3rd in the M40-44 age group!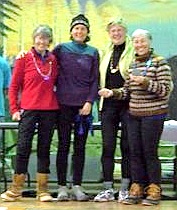 Full results are at CCR Timing's website.
2008 Southwest Challenge Series (SWCS) Info

If you are interested in participating in or learning more about the oldest and largest duathlon and triathlon series in the world, visit their website. Good luck if you do take part in any of these races (all held in New Mexico or western Texas)!
First Spring Running Series Results

Congratulations to Liz Clabaugh for winning the first Spring Running Series handicapped race. We had a nearly overwhelming 17 runners, including three who drove up from Las Cruces!

Please recall that the next race will have a post-race brunch. Since I have previously mentioned that all races start at the pool, we will stick to that, finishing at the brunch site. Directions will be provided.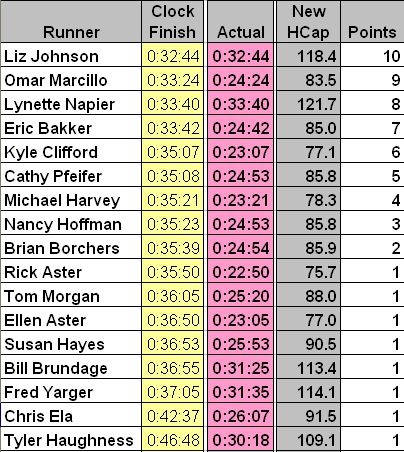 Spring Running Series
It's time for the Spring Running Series again! As usual, it will be handicapped, meaning runners start at different times in order to all finish together (theoretically).


The race dates:

Trail Work Coming Up!
We expect to

LEAVE

the coffee shop parking lot by noon on the

1st of March

. Please bring comfortable clothes, some water (we will have some too), and GLOVES! The area of the trail work is near the Cerillos del Coyote trail and the work being done is in anticipation of the race in April.


The Next Hash will be ...

????? It's sort of defunct

Read one of the Hash Trash reviews, such as February's, January's, or the one from the Red Dress Run in December. Or go further back and read the trash from November, The HALLOWEEN Hash, Early October, September 2005's Hash, August 2005's Tech Dress-up Hash, July 2005's Hash, June 2005's Hash, May 2005's Cinco De Mayo Hash, April 2005's Spring Forward Hash, March 2005's St. Patty's Hash, February 2005's Valentine's Day Hash, January 2005's Hash, December 2004 Red Dress Run, November 2004's, 2004's Halloween Hash, September, August, July, June, May, April, March 2004, February 2004, January 2004, December 2003's Red Dress Run Report, November 2003, or October 2003 Halloween Hash to see what hashing's about.
SSR Classifieds
Feel free to ask me about posting Want To Buy, Want to Sell, or Want To Trade items
Concept II Rowing Machine (non-pneumatic); Weider Multi-gym ("universal"-style weight machine). Make offers. Call Pat or Catharine at 838-1110.
*****
Regular Rides and Runs Around Socorro
These are not SSR-sponsored club events!

Cycling (Road): Monday, Wednesday AND Friday at NOON!, meet at the IRIS Parking Lot.
Running: Sunday social run, meet at Tech pool parking lot,

8 AM

Sundays (email to verify!).
Like to start a new regular run or ride? Contact SSR to get it listed here.