Upcoming Races and Local Race Results
| | |
| --- | --- |
| Race | Date |
| Race For The Zoo (ABQ) | 5/3 |
| A-Mountain Race (Las Cruces) | 5/3 |
| Jay Benson Tri | 5/11 |

See the calendar to the left for many more races and links.


Ironman AZ Results

Christian Krueger finished quite well in the April 13th Ironman in Tempe, almost meeting his goal. His overall time was 10:32:15 and full results can be found on their preliminary results page.

Spring Running Series Results

Congratulations to Julie Aster for winning the final Spring Running Series handicapped race! It was lovely weather and we also had a great time afterwards thanks to Gustaafs hosting of the brunch.

As expected, Liz showed up to complete her domination for the series title - great job!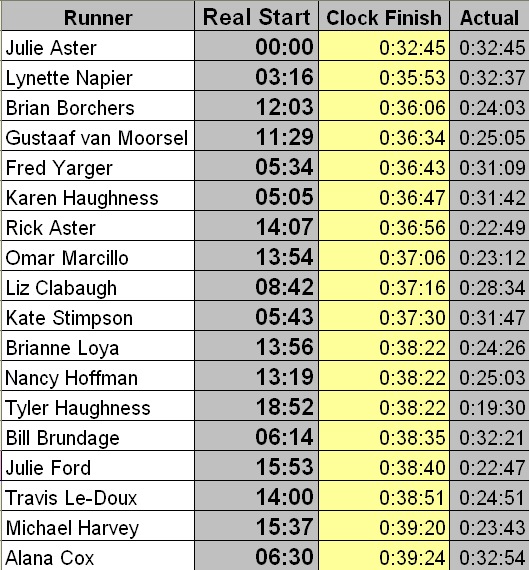 Note: I accidentally cut off Travis Le-Doux and intentionally cut off all the racers who only completed one of the first 3 races.
Recent Half-Marathon Results

Three members ran half-marathons in Arizona in the past few weeks.

Lindsey Montoya completed the Valley of the Sun Half-Marathon in 2:01 on March 9th. That garnered her a place of 27th out of 77 in her AGE GROUP (big race!).

A week later, Julie Ford and Cathy Pfeifer ran the Arizona Distance Classic north of Tucson. It was a very cool morning andsurprisingly hilly course. That didn't stop Julie and Cathy from easily beating their time goals, though.

Julie finished in a blazing 1:37:10 (a 7:25 mile pace!), good enough for 10th overall and 2nd in her age group. Cathy crossed in 1:51:21 for a 48th place finish and 6th in her age group.

Good job to all three of you!










Run & Walk For Your Life 5k Results
Thanks for the fun turnout everyone! It is always nice to see such a wide variety of runners and ages in the 5k. As usual, the kids were a treat and we gave away a lot of medals.






1st

Adrian Avalos 31:41




1st

Manuel Liciano 30:06


2nd

David Avalos 32:26


3rd

Gabriel Franco 45:29

1st Sarai Vega 49:58




1st

David Zaragosa-Morales 31:41



1st

Julie Aster 30:37


2nd

Anastasia Placek 47:35


3rd

Alena Gachupin 49:17




1st

Tyler Haughness 18:39


2nd

Kyle Clifford 21:35


3rd

Robert Hancock 43:12



1st

Brianne Loya 23:29




1st

Johnny Henderson 20:17



1st

Julie Ford 21:46


2nd

Nancy Hoffman 33:46


2nd

Patty Frisch 33:46




1st

Brian Borchers 22:59


2nd

Robert Cordova 27:44




1st

Vidal Chavez 53:43



1st

Fran Hazlewood 32:02


2nd

Lynette Napier 34:59


3rd

Nachin Bone 36:12


4th

Rheda Brown (& Robinson!) 49:49
Trail Work Coming Up!
Keep an eye out for an announcement.


The Next Hash will be ...

????? It's sort of defunct

Read one of the Hash Trash reviews, such as February's, January's, or the one from the Red Dress Run in December. Or go further back and read the trash from November, The HALLOWEEN Hash, Early October, September 2005's Hash, August 2005's Tech Dress-up Hash, July 2005's Hash, June 2005's Hash, May 2005's Cinco De Mayo Hash, April 2005's Spring Forward Hash, March 2005's St. Patty's Hash, February 2005's Valentine's Day Hash, January 2005's Hash, December 2004 Red Dress Run, November 2004's, 2004's Halloween Hash, September, August, July, June, May, April, March 2004, February 2004, January 2004, December 2003's Red Dress Run Report, November 2003, or October 2003 Halloween Hash to see what hashing's about.
SSR Classifieds
Feel free to ask me about posting Want To Buy, Want to Sell, or Want To Trade items
Concept II Rowing Machine (non-pneumatic); Weider Multi-gym ("universal"-style weight machine). Make offers. Call Pat or Catharine at 838-1110.
*****
Regular Rides and Runs Around Socorro
These are not SSR-sponsored club events!

Cycling (Road): Monday, Wednesday AND Friday at NOON!, meet at the IRIS Parking Lot.
Running: Sunday social run, meet at Tech pool parking lot,

8 AM

Sundays (email to verify!).
Like to start a new regular run or ride? Contact SSR to get it listed here.