Upcoming Races and Local Race Results
| | |
| --- | --- |
| Race | Date |
| Spring Running Series #4 | 3/31 |
| MVTC Triathlon (Las Cruces) | 4/1 |
| Defined Fitness Duathlon (ABQ) | ??? |
| Tax Day Tri (WSMR) | 4/14 |
| Walk & Run For Your Life 5k | 4/28 |
| Tour of Socorro (MTB Omnium) | 4/21-22 |
| Jay Benson Tri (ABQ) | 5/13 |
| Pecos River Walk/Run (flyer) | 6/9 |
| Mini Triathlon and Clinic | 6/24 |
| Chile Harvest Tri | 8/11 |
| Fat Tire Fiesta | 9/21-23 |
| Fall Running Series #1 | 9/24 |
| Fall Running Series #2 | 10/15 |
| Fall Running Series #3 | 11/3 |
| Fall Running Series #4 | 11/17 |
Walk & Run For Your Life Is Coming Up (4/28)!
Don't forget about the upcoming Walk & Run For Your Life. You can down load the flyer here to help get the word out.

Defined Fitness Duathlon Is Canceled
The race may be held later this year but definitely not on 4/8.

Battle of Midway Olympic Triathlon (7/1)
Since I hear that the Las Vegas Oly Tri is out of commission this year, this may be a good substitution. The Battle of Midway tri is in Midway, Utah.
Tuscon Triathlon Results
Here are the results from the March 11th triathlon that Alyssa and E.P. participated in. Good job Alyssa on the 2nd place in your AG!
John Stermer Duathlon Results
Here are the official results.
2007 Tour of Socorro Omnium Is Set
Check out the webpagefor all the details on the two-day mountain bike event in and around Socorro. It combines the Cerrillos del Coyote with the new South Baldy Hill Climb.
Southwest Challenge Series Results
Two members, Mike Montoya & Robert Abernathy, came in fourth in their very populated age groups for this year's SWCS. Check John Leroy's webpage for current results.

Awards will be handed out after the Polar Bear Triathlon in December.

*****

*****



The Next Hash will be ...

April 5th!! Tickle Me Colon is the hare and the meet-up time and place should be the usual (6PM at El Matador)..

Read one of the Hash Trash reviews, such as February's, January's, or the one from the Red Dress Run in December. Or go further back and read the trash from November, The HALLOWEEN Hash, Early October, September 2005's Hash, August 2005's Tech Dress-up Hash, July 2005's Hash, June 2005's Hash, May 2005's Cinco De Mayo Hash, April 2005's Spring Forward Hash, March 2005's St. Patty's Hash, February 2005's Valentine's Day Hash, January 2005's Hash, December 2004 Red Dress Run, November 2004's, 2004's Halloween Hash, September, August, July, June, May, April, March 2004, February 2004, January 2004, December 2003's Red Dress Run Report, November 2003, or October 2003 Halloween Hash to see what hashing's about.
SSR Classifieds
Feel free to ask me about posting Want To Buy, Want to Sell, or Want To Trade items
Concept II Rowing Machine (non-pneumatic); Weider Multi-gym ("universal"-style weight machine). Make offers. Call Pat or Catharine at 838-1110.
*****
Regular Rides and Runs Around Socorro
These are not SSR-sponsored club events!

Cycling (Road): Monday, Wednesday AND Friday at NOON!, meet at the IRIS Parking Lot.
Cycling (MTB): Friday 11:30 AM, meet at the IRIS Parking Lot (not very regular!).
Cycling (MTB): Saturday 10 AM (Girls only!), meet at Spoke-N-Word.
Cycling (MTB): Sunday 10 AM (no-drop), meet at Spoke-N-Word.
Running: Sunday social run, meet at Tech pool parking lot, 8 AM Sundays (email to verify!).
Like to start a new regular run or ride? Contact SSR to get it listed here.
The 2007 Spring Running Series Has Started!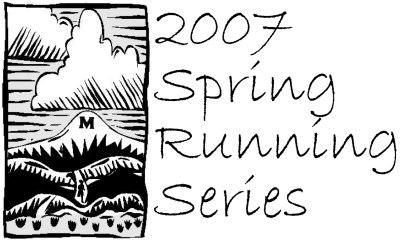 [
Full PDF
]
All races will start at the New Mexico Tech pool. There is a $5 entry fee and you must be an SSR member to join this great series. Click on the PDF link above for prize info.
Saturday February 3 @9:00AM
Saturday February 24 @9:00AM
Saturday March 10 @9:00AM
Saturday March 31 @9:00AM
Race #3 Results


| | | |
| --- | --- | --- |
| Runner | Duration | Pts |
| Francisco Avila | 24:32 | 10 |
| Nick Carter | 25:10 | 9 |
| Walter Brisken | 26:09 | 8 |
| Bill Brundage | 29:57 | 7 |
| Pat Roache | 33:07 | 6 |
| Sam Gabay | 21:44 | 5 |
| Atta Gueye | 29:16 | 4 |
| Colin Lee | 25:14 | 3 |
| Robert Abernathy | 27:27 | 2 |
| Ephraim Ford | 20:18 | 1 |
| Fred Yarger | 32:19 | 1 |
| Katie Devine | 26:42 | 1 |
Race #2 Results


| | | | | |
| --- | --- | --- | --- | --- |
| Runner | Start | Finish | Duration | Pts |
| Sam Gabay | 0:07:41 | 0:30:32 | 0:22:51 | 10 |
| Eric Bakker | 0:03:36 | 0:30:40 | 0:27:04 | 9 |
| Rune Holt | 0:04:26 | 0:31:04 | 0:26:38 | 8 |
| Eric Krosche | 0:01:41 | 0:31:12 | 0:29:31 | 7 |
| Ephraim Ford | 0:11:11 | 0:31:53 | 0:20:42 | 6 |
| Fred Yarger | 0:00:00 | 0:31:58 | 0:31:58 | 5 |
| Atta Gueye | 0:01:41 | 0:32:02 | 0:30:21 | 4 |
| Issac Burleigh | 0:08:11 | 0:32:05 | 0:23:54 | 3 |
| Diana Grijalva | 0:05:00 | 0:32:20 | 0:27:20 | 2 |
| Kendrick Walter | 0:11:27 | 0:32:29 | 0:21:02 | 1 |
| Ryan Halton | 0:11:26 | 0:32:40 | 0:21:14 | 1 |
| Kim Schaffer | 0:08:01 | 0:32:52 | 0:24:51 | 1 |
| Walter Brisken | 0:04:41 | 0:33:16 | 0:28:35 | 1 |
| Erica Burleigh | 0:07:41 | 0:33:23 | 0:25:42 | 1 |
| Rafael Hiriart | 0:09:51 | 0:33:51 | 0:24:00 | 1 |
| Pip Mena | 0:07:41 | 0:34:25 | 0:26:44 | 1 |
| Bill Brundage | 0:02:09 | 0:35:14 | 0:33:05 | 1 |
| Hanna Wolberg | 0:06:41 | 0:38:14 | 0:31:33 | 1 |
| Kyle Wolf | 0:06:41 | 0:38:25 | 0:31:44 | 1 |
| Francisco Avila | 0:06:41 | 0:38:28 | 0:31:47 | 1 |
Race #1 Results


| | | | | |
| --- | --- | --- | --- | --- |
| Name | Start Time | Finish Time | Duration | Pts. |
| Lynette Napier | 0:00 | 33:47 | 33:47 | 10 |
| Linda Giesen | 5:37 | 34:20 | 28:43 | 9 |
| Fred Yarger | 3:10 | 34:51 | 31:41 | 8 |
| Glenn Spinelli | 14:31 | 35:28 | 20:57 | 7 |
| Robert Gonzales | 14:02 | 35:50 | 21:48 | 6 |
| Jacob Kemmeren | 14:07 | 36:05 | 21:59 | 5 |
| Eric Bakker | 8:06 | 36:11 | 28:05 | 4 |
| Gerry Strathman | 9:03 | 36:21 | 27:18 | 3 |
| Kendrick Walter | 16:10 | 36:24 | 20:14 | 2 |
| Ephraim Ford | 16:00 | 36:30 | 20:30 | 1 |
| Michael Ruth | 16:10 | 36:34 | 20:24 | 1 |
| Robert Abernathy | 9:03 | 36:56 | 27:53 | 1 |
| Gustav Van Moorsel | 10:38 | 37:23 | 26:45 | 1 |
| Robert Baca | 16:10 | 37:37 | 21:27 | 1 |
| Bill Brundage | 6:57 | 38:56 | 31:59 | 1 |