Upcoming Races and Local Race Results
Las Vegas Olympic Triathlon
Matt & Cathy were the lone SSR participants at the 7/23 Las Vegas Tri. Matt came through with an 8th place finish in his AG while Cathy won hers! RESULTS
Burn Lake Duathlon
Not only did Robert help out at the mini-tri, but he raced the Burn Lake Duathlon on Saturday the 22nd. This is one of the toughest du's in the state, with two runs and a VERY long bike in the middle. To top it off, he got 3rd in his AG!!
Kelly Mine Run
The recent rains made for a nice race from Magdalena to Kelly on July 9th. Ephraim Ford came in 2nd, about 4 minutes behind Matt, a visiting runner from Ohio who broke the course record. Other notable finishes included Kim Schaeffer, who was 2nd female.

More details & photos will come as I take time to put them in. This was a great race as usual.
Bottomless Triathlon
Robert was the only SSer present for the full Bottomless Triathlon. That meant he had some tough competition in his age group as usual and finished in 67 minutes.
Buffalo Springs Trathlons
Terry Moore, Mike Montoya, and others competed in the Buffalo Springs races on the weekend of June 24-25. Check out the results page where you can see that Mike not only did the sprint but he won it!
Grandma's Marathon
Katie continues to make great progress towards her goal of a sub-4:00 marathon. This time it was Grandma's Marathon in Duluth, MN, where she finished in 4:21:24, or about the top 1/3rd of all females.
France Stevens Triathlon
Not so windy as the last tri! There were enough last minute entries to make it a fun race with 84 participants. As usual, the run was about .2 miles short in the 5k/35k/400m race.

I have scanned in the raceday results, which have at least error (Mary Wells in M45-49) Page 1 & Page 2.
Jayme Margolin

- 7th OA - 1st in F25-29
24:53 1:15:24 9:28 =
1:49:45
Ephraim Ford

- 10th OA, 3/6 in M25-29
19:31 1:02:46 8:29 :
1:30:46
Julie Ford

- 2nd OA, 1/3 in F30-34
21:42 1:06:03 8:58 =
1:36:43
Duece's Wild Triathlons
The results are finally up on the race's webpage. Great job to Cathy Pfeifer for finishing third in the Olympic tri, Matt for being 5th/11 in a tough age group. They also finished well (3rd I blieve) in the Off-road tri relay!
Kona 70.3
Steven Montoya had an excellent time in Kona for the 70.3 (was called a half-ironman). He even placed 15th in his age group and 113th overall.

Steven Montoya
Swim 00:30:37 Bike 02:37:38 Run 01:54:58


TOTAL

05:08:39
Milkman Triathlon (Roswell)
We had a bunch of locals do the race with 3 Higgs' WINNING their age classifications along with Erika winning hers and Jayme getting a second! For the official results, see the CCR Timing website.


Socorro Tri-Clinic & Mini-Tri
With nice weather and a large turnout, the clinic and the mini-triathlon were big successes! Many thanks to our volunteers for keeping the course safe, for Mark and Terry Mico for coaching the clinic, and to the participants, who all completed their first triathlons!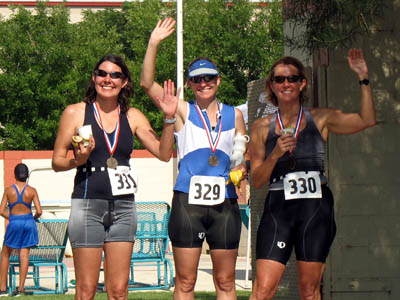 1st Petra Fuierer - 38:01
2nd Sarah Black - 38:25
3rd Paul Fuierer - 39:03
Glenn Spinelli - 39:13
Sophie Evitt - 40:55
Maripat Glover - 41:08
Daniel Kniffen - 41:44
Stephanie Apache - 43:05
Jason Brooks - 44:09
Martin Madrid - 44:49
Gabriel Chavez - 45:11
Nico Marrero - 45:14
Lisa Isenbarger - 45:21
Cody Winclechter - 47:02
Jonathan Gonzales - 47:06
Bill Brundage - 51:44
Jeriana Contreras - 52:24
Diana Grijalva - 52:53
Becky Morse - 53:00
Damiana Contreras - 53:03
Ben Ford - 1:03:10
Regina Laine - 1:16:43
Sarah Laine - 1:32:21
*****
The Next Hash will be on the 7th of August

Details TBA.

Read one of the Hash Trash reviews, such as February's, January's, or the one from the Red Dress Run in December. Or go further back and read the trash from November, The HALLOWEEN Hash, Early October, September 2005's Hash, August 2005's Tech Dress-up Hash, July 2005's Hash, June 2005's Hash, May 2005's Cinco De Mayo Hash, April 2005's Spring Forward Hash, March 2005's St. Patty's Hash, February 2005's Valentine's Day Hash, January 2005's Hash, December 2004 Red Dress Run, November 2004's, 2004's Halloween Hash, September, August, July, June, May, April, March 2004, February 2004, January 2004, December 2003's Red Dress Run Report, November 2003, or October 2003 Halloween Hash to see what hashing's about.
SSR Classifieds
Feel free to ask me about posting Want To Buy, Want to Sell, or Want To Trade items
Race bikes: Both are road race bikes with Time Trial bars added.
46 cm custom built
56" Serotta with Tri-Spoke wheels
Make offer to Pat or Catharine 838-1110
*****
Important USAT News
USAT recently sent out a newsletter detailing some important rules & fees changes & a new series.
Your race age will be based on your age at the end of the year, the youth membership fee is reduced, and a Grand Prix Series is starting, including a race in Arizona.
Click here for the whole letter.
*****
Regular Rides and Runs Around Socorro
These are not SSR-sponsored club events!

Cycling (Road): Monday, Wednesday AND Friday at NOON!, meet at the IRIS Parking Lot.
Cycling (MTB): Friday 11:30 AM, meet at the IRIS Parking Lot (not very regular!).
Cycling (MTB): Saturday 10 AM (Girls only!), meet at Spoke-N-Word.
Cycling (MTB): Sunday 10 AM (no-drop), meet at Spoke-N-Word.
Running: Sunday social run, meet at Tech pool parking lot, 8 AM Sundays (email to verify!).
Like to start a new regular run or ride? Contact SSR to get it listed here.