Upcoming Races and Local Race Results
Yucca Duathlon (9/23) canceled due to lack of entrants

Fall Running Series Race #1 - 9/25
Chips 'n Salsa 5k & 10k
Pat & Catharine both had great runs in the Chips n' Salsa race on September 10th. Pat placed 2nd in his age group in the 10k while Catharine was first in her 5k age group.
F1 * Bottomless * Series Results
Check out the series RESULTS, which include both races AND the overall points. Robert was the only SSR'er to do both races and qualify for the series.
Los Alamos Triathlon
The Active.com RESULTS are up! Jan Sramek, Lynette Napier, and Robert placed 3rd, 4th, and 13th in their age groups in a VERY tough field.
Rattlesnake Triathlon
Matt & Cathy were again the lone SSR participants at the 7/30 Rattlesnake Olympic Tri up in Aurora. Matt came through with an 12th/20 place finish in his AG while Cathy PR'ed her race on the way to a 6/20 finish! RESULTS
Las Vegas Olympic Triathlon
Matt & Cathy were the lone SSR participants at the 7/23 Las Vegas Tri. Matt came through with an 8th place finish in his AG while Cathy won hers! RESULTS
Burn Lake Duathlon
Not only did Robert help out at the mini-tri, but he raced the Burn Lake Duathlon on Saturday the 22nd. This is one of the toughest du's in the state, with two runs and a VERY long bike in the middle. To top it off, he got 3rd in his AG!!
Kelly Mine Run
The recent rains made for a nice race from Magdalena to Kelly on July 9th. Ephraim Ford came in 2nd, about 4 minutes behind Matt, a visiting runner from Ohio who broke the course record. Other notable finishes included Kim Schaeffer, who was 2nd female.

More details & photos will come as I take time to put them in. This was a great race as usual.
Bottomless Triathlon
Robert was the only SSer present for the full Bottomless Triathlon. That meant he had some tough competition in his age group as usual and finished in 67 minutes.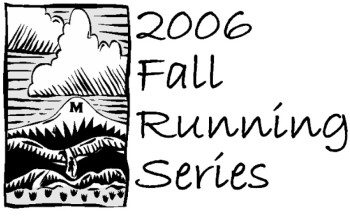 It's that time of year again - The FRS is back. This is a member's only series of 5k races but, come on, membership isn't that expensive so invite any friends or students who may be interested. Click on the link below for details that include the $5 fee to sign up for all races.
Race dates:
September 25 (5:30 PM)
October 16th (5:30 PM)
November 4th (8:30 AM)
November 18th (8:30 AM)
*****
Recent USAT Newsletter
USAT recently sent out another newsletter. item discussed is their promotion of donating $2 to our club for each member that signs up with USAT for a year.
*****
Vuelta de los Muertos
A fundraiser tour ride for Big Brothers and Big Sisters of Grant County and
the Hillsboro Community Center
October 28-29th, 2006
Full Details: http://education.nmsu.edu/faculty/ci/rutledge/MuertoTour.pdf

Course Distances and Description:
This 56 mile course is from the morning staging area at the Hillsboro Community Center to Silver City (Oct. 28th) and Silver City to Hillsboro (Oct. 29th). Departure from Hillsboro and Silver City can begin as early as 7:00 a.m., but no later than 9:00 a.m. to insure sufficient time for everyone to participate
This course is a scenic trip between Hillsboro and Silver City beginning with a climb up and over Emory Pass (mile marker from 49 to 32 – food stop); down into the Mimbres valley (mile marker 15 – support location); and ending in Silver City (see map below). Return trip on Sunday October 29th.
*****
The Next Hash will be on the 5th of October

Nothing and Just Katie are the hares.

Read one of the Hash Trash reviews, such as February's, January's, or the one from the Red Dress Run in December. Or go further back and read the trash from November, The HALLOWEEN Hash, Early October, September 2005's Hash, August 2005's Tech Dress-up Hash, July 2005's Hash, June 2005's Hash, May 2005's Cinco De Mayo Hash, April 2005's Spring Forward Hash, March 2005's St. Patty's Hash, February 2005's Valentine's Day Hash, January 2005's Hash, December 2004 Red Dress Run, November 2004's, 2004's Halloween Hash, September, August, July, June, May, April, March 2004, February 2004, January 2004, December 2003's Red Dress Run Report, November 2003, or October 2003 Halloween Hash to see what hashing's about.
SSR Classifieds
Feel free to ask me about posting Want To Buy, Want to Sell, or Want To Trade items
Concept II Rowing Machine (non-pneumatic); Weider Multi-gym ("universal"-style weight machine). Make offers. Call Pat or Catharine at 838-1110.
*****
Important USAT News
USAT recently sent out a newsletter detailing some important rules & fees changes & a new series.
Your race age will be based on your age at the end of the year, the youth membership fee is reduced, and a Grand Prix Series is starting, including a race in Arizona.
Click here for the whole letter.
*****
Regular Rides and Runs Around Socorro
These are not SSR-sponsored club events!

Cycling (Road): Monday, Wednesday AND Friday at NOON!, meet at the IRIS Parking Lot.
Cycling (MTB): Friday 11:30 AM, meet at the IRIS Parking Lot (not very regular!).
Cycling (MTB): Saturday 10 AM (Girls only!), meet at Spoke-N-Word.
Cycling (MTB): Sunday 10 AM (no-drop), meet at Spoke-N-Word.
Running: Sunday social run, meet at Tech pool parking lot, 8 AM Sundays (email to verify!).
Like to start a new regular run or ride? Contact SSR to get it listed here.