Upcoming Races and Local Race Results
2006 Cerrillos del Coyote MTB -
Spring Handicap 5k #4 April 20th @ the NMT pool
Spring Handicap Series
The Spring Handicap Series is starting on February 4th! It is only $5 for the whole series but it is also only open to club members. So what better reason to sign up than race in the series where anyone can win?! Remember, it is $5/$10/$15 for students, individuals, and families, respectively.
All races will start at the NMT pool (except #2!!!) and some will have brunches afterwards. This last race starts at the pool in the evening and ends at the Ford's house (just south of the NMT campus) for a dinner. Please contact Ephraim or Julie for information on what you can bring to the brunch (as you know, we already have the hot dogs covered!).
MVTC Triathlon
It was a beautiful early April day for racing in Las Cruces as around a half-dozen members competed in the MVTC triathlon. While it takes a while to get actual times out of the officials, here are our preliminary results.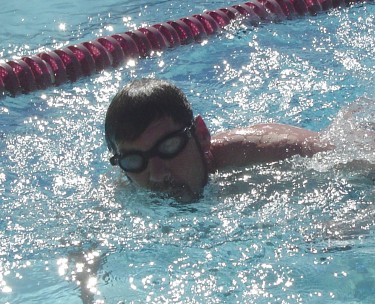 Pete Van Moorsel

- ~6th? in M20-24

Jayme Margolin

- 2nd* in F25-29

Steven Montoya

- 2nd* in M25-29

Ephraim Ford

- 4th* in M25-29

Julie Ford

- 1st in F30-34, ~5th overall

Robert Abernathy

- 6th in M45-49

Rheda Brown

- 3rd in F55-59
(* place AFTER overall race winner was removed from this age group)
Coyote Classic MTB race
Clayton, Craig, Ligia & Karl raced the "ripping" course at Franklin Mountain State Park near El Paso. The lengths depended on the category but the entire event was well-run despite a slow awards ceremony. CoyoteGroup.jpg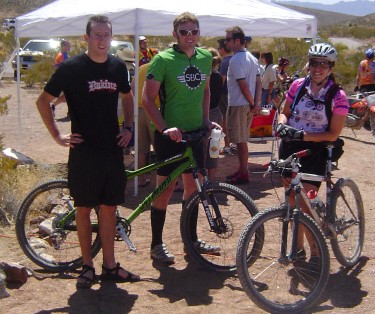 Clayton Snieder

- 1st in Beginner Men's

Craig Altare

- 6th Sport Men 19-29

Ligia Ford

- 1st in Sport Women

Karl Frisch

- 8th in Pro Expert 40-49
Mt. Taylor Quadrathlon
Even though there wasn't enough snow for the "true" quadrathlon a decent amount of people turned out in Grants, including some SSR members doing the race solo or on a team. Here are the results of the members and some local athletes. Congratulations for racing such a tough event!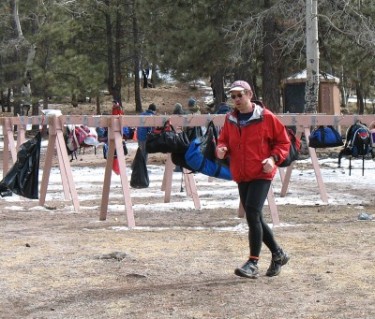 Rick Aster - 58th Male - 11th M45-49


5:34:33

Stuart Allen - 60th Male -7th M19-24

5:38:37

Matt Perini - 90th Male - 12th M40-44

6:52:41

Cathy Pfeifer - 20th Female - 6th F40-44

6:05:32

Trophy Husbands (Ephraim Ford & Patrick Walsh) - 9th Pair - 2nd Male Pair 19-29

4:53:33

Sugar Mamas (Julie Ford & Lynda Walsh) - 19th Pair - 3rd Female Pair 30-39

5:41:35

New Mexico Tech Viejos -10th Team - 2nd Male Team 50-59

5:09:51
Important USAT News
USAT recently sent out a newsletter detailing some important rules & fees changes & a new series.
Your race age will be based on your age at the end of the year, the youth membership fee is reduced, and a Grand Prix Series is starting, including a race in Arizona.
Click here for the whole letter.
*****
2006 Spring Running Series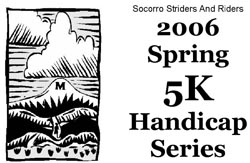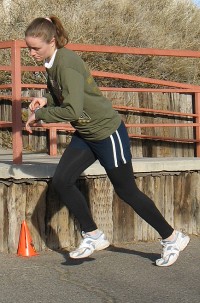 Three races under our belt and 2 more to go. Thanks to everyone for helping in the turnout and thanks to Robert for running and hosting the brunch!
Full results for race 1 are in this document, results from race 2 are here, and the current standings are here. Jayme is crushing the competition with 21 points, 9 ahead of the constantly improving Ryan.
| Runner | Hcap | Place | Actual | New HCap |
| --- | --- | --- | --- | --- |
| Ligia Ford | 108.0 | 1 | 0:26:57 | 95.0 |
| Fred Yarger | 116.0 | 2 | 0:29:54 | 107.0 |
| Jason Brooks | 120.0 | 3 | 0:30:05 | 108.0 |
| David Romero | 71.5 | 4 | 0:20:24 | 62.0 |
| Ryan Halton | 58.0 | 5 | 0:19:21 | 55.0 |
| Jayme Margolin | 96.0 | 6 | 0:26:59 | 95.0 |
| Julie Ford | 74.0 | 7 | 0:22:28 | 73.5 |
| Jan Sramek | 105.0 | 8 | 0:29:35 | 105.0 |
| Bill Holmes | 120.0 | 9 | 0:32:30 | 117.0 |
| Ephraim Ford | 60.5 | 10 | 0:21:26 | 60.5 |
| Rheda Brown | 120.0 | 11 | 0:39:32 | 120.0 |
*****
The Next Hash will be on the 6th of April

Used Cowgirl & Just Ligia are the hares. The dress code is international and we will meet at the Matador at 6PM.

Read one of the Hash Trash reviews, such as February's, January's, or the one from the Red Dress Run in December. Or go further back and read the trash from November, The HALLOWEEN Hash, Early October, September 2005's Hash, August 2005's Tech Dress-up Hash, July 2005's Hash, June 2005's Hash, May 2005's Cinco De Mayo Hash, April 2005's Spring Forward Hash, March 2005's St. Patty's Hash, February 2005's Valentine's Day Hash, January 2005's Hash, December 2004 Red Dress Run, November 2004's, 2004's Halloween Hash, September, August, July, June, May, April, March 2004, February 2004, January 2004, December 2003's Red Dress Run Report, November 2003, or October 2003 Halloween Hash to see what hashing's about.
SSR Classifieds
Feel free to ask me about posting Want To Buy, Want to Sell, or Want To Trade items
Race bikes: Both are road race bikes with Time Trial bars added.
46 cm custom built
56" Serotta with Tri-Spoke wheels
Make offer to Pat or Catharine 838-1110
*****
Regular Rides and Runs Around Socorro
These are not SSR-sponsored club events!
Cycling (Road): Monday, Wednesday AND Friday at NOON!, meet at the IRIS Parking Lot.
Cycling (MTB): Friday 11:30 AM, meet at the IRIS Parking Lot (not very regular!).
Cycling (MTB): Saturday 10 AM (Girls only!), meet at Spoke-N-Word.
Cycling (MTB): Sunday 10 AM (no-drop), meet at Spoke-N-Word.
Running: Sunday social run, meet at Tech pool parking lot, 8 AM Sundays .
Like to start a new regular run or ride? Contact SSR to get it listed here.